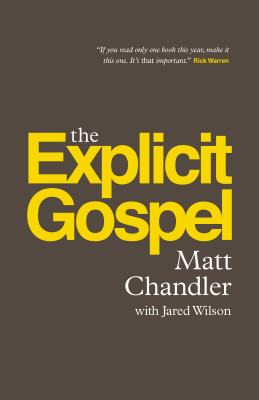 The Explicit Gospel (Hardcover)
Crossway Books, 9781433530036, 240pp.
Publication Date: April 30, 2012
Other Editions of This Title:
Paperback (6/30/2014)
Compact Disc (4/30/2012)
Paperback (4/1/2012)
* Individual store prices may vary.
Description
Even if you go to church, it doesn't mean that you are being exposed (or exposing others) to the gospel explicitly. Sure, most people talk about Jesus, and about being good and avoiding bad, but the gospel message simply isn't there--at least not in its specificity and its fullness.
Inspired by the needs of both the overchurched and the unchurched, and bolstered by the common neglect of the explicit gospel within Christianity, popular pastor Matt Chandler writes this punchy treatise to remind us what is of first and utmost importance--the gospel.
Here is a call to true Christianity, to know the gospel explicitly, and to unite the church on the amazing grounds of the good news of Jesus
VIDEO: To see the video of Matt speaking on The Explicit Gospel Tour, please visit Crossway's vimeo page here: https: //vimeo.com/41100864
About the Author
Matt Chandler is the lead pastor of The Village Church, a multi-campus church in the Dallas metroplex of over 10,000 people. His sermons are among the topselling (free) podcasts on itunes and he speaks at conferences worldwide. Prior to accepting the pastorate at The Village, Matt had a vibrant itinerant ministry for over ten years where he spoke to hundreds of thousands of people in America and abroad about the glory of God and beauty of Jesus. He lives in Texas with his wife, Lauren, and their three children: Audrey, Reid and Norah. Jared C. Wilson is the director of content strategy at Midwestern Baptist Theological Seminary in Kansas City, Missouri, and managing editor of the seminary's website for gospel-centered resources, For the Church. He is a popular author and conference speaker, and also blogs regularly at Gospel Driven Church hosted by the Gospel Coalition. His books include Your Jesus Is Too Safe, Gospel Wakefulness, Gospel Deeps, The Pastor's Justification, The Storytelling God, and The Wonder-Working God.
or
Not Currently Available for Direct Purchase