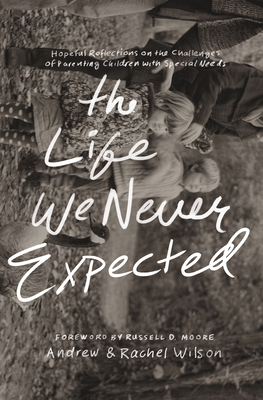 The Life We Never Expected (Paperback)
Hopeful Reflections on the Challenges of Parenting Children with Special Needs
Crossway Books, 9781433550997, 160pp.
Publication Date: June 30, 2016
* Individual store prices may vary.
Description
Sometimes life throws you a curveball.
Andrew and Rachel Wilson know what it means to live a life they never expected. As the parents of two children with special needs, their story mingles deep pain with deep joy in unexpected places. With raw honesty, they share about the challenges they face on a daily basis--all the while teaching what it means to weep, worship, wait, and hope in the Lord. Offering encouragement rooted in God's Word, this book will help you cling to Jesus and fight for joy when faced with a life you never expected.
About the Author
Andrew Wilson (PhD, King's College London) is the teaching pastor at King's Church London and a columnist for Christianity Today. He is the author of several books, including Unbreakable and The Life We Never Expected (with his wife, Rachel).Rachel Wilson is a wife, mother of two, and the coauthor of The Life We Never Expected. She and her husband are part of Kings Church in Eastbourne in the United Kingdom.Russell Moore (PhD, The Southern Baptist Theological Seminary) is the eighth president of the Ethics & Religious Liberty Commission of the Southern Baptist Convention, the moral and public policy agency of the nation's largest Protestant denomination. A widely-sought commentator, Dr. Moore has been called "vigorous, cheerful, and fiercely articulate" by the Wall Street Journal. He is the author of several books, including Onward, The Kingdom of Christ, Adopted for Life, and Tempted and Tried, and he blogs regularly at RussellMoore.com and tweets at @drmoore. He and his wife, Maria, have five sons.