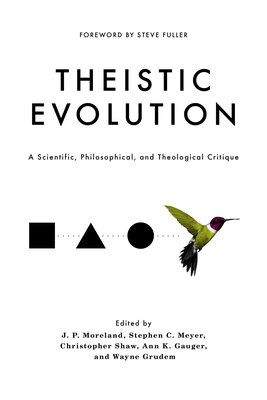 Theistic Evolution
A Scientific, Philosophical, and Theological Critique
Hardcover

* Individual store prices may vary.
Description
Winner of the ECPA Book of the Year Award for Bible Reference Works

Many prominent Christians insist that the church must yield to contemporary evolutionary theory and therefore modify traditional biblical ideas about the creation of life. They argue that God used--albeit in an undetectable way--evolutionary mechanisms to produce all forms of life. Featuring two dozen highly credentialed scientists, philosophers, and theologians from Europe and North America, this volume contests this proposal, documenting evidential, logical, and theological problems with theistic evolution--making it the most comprehensive critique of theistic evolution yet produced.
Crossway, 9781433552861, 1008pp.
Publication Date: November 30, 2017
About the Author
J. P. Moreland (PhD, University of Southern California) is distinguished professor of philosophy at Biola University. He is an author of, contributor to, or editor of over ninety books, including The Soul: How We Know It's Real and Why It Matters.Chris Shaw (PhD, Queen's University, Belfast) is professor of drug discovery in the school of pharmacy at Queen's University in Belfast. He is the author of hundreds of peer-reviewed papers and the cofounder of a biomarker discovery company.Wayne Grudem (PhD, University of Cambridge) is Distinguished Research Professor of Theology and Biblical Studies at Phoenix Seminary. He is a member of the Translation Oversight Committee for the English Standard Version of the Bible, the general editor of the ESV Study Bible, and the author of over twenty-five books.