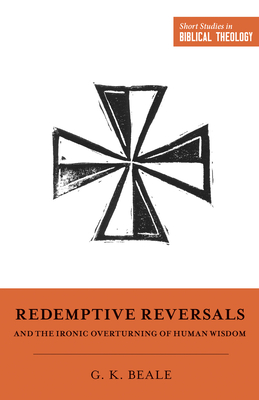 Redemptive Reversals and the Ironic Overturning of Human Wisdom (Paperback)
"the Ironic Patterns of Biblical Theology: How God Overturns Human Wisdom" (Short Studies in Biblical Theology)
Crossway Books, 9781433563287, 208pp.
Publication Date: November 12, 2019
* Individual store prices may vary.
Description
"But many who are first will be last, and the last first." -Matthew 19:30
The Bible is full of ironic situations in which God overturns the world's wisdom by doing the opposite of what is expected--people are punished by their own sin, the persecution of the church is the catalyst for its growth, Paul claims to have strength through weakness, and more. In this book, biblical scholar G. K. Beale explores God's pattern of divine irony in both judgment and salvation, finding its greatest expression in Jesus's triumph over death through death on a cross. Unpacking this pattern throughout redemptive history, Beale shows us how God often uses what is seemingly weak and foolish to underscore his own strength and power in the lives of his people today.
About the Author
G. K. Beale (PhD, University of Cambridge) is professor of New Testament and biblical theology at Westminster Theological Seminary. In recent years he has served as president and member of the executive committee of the Evangelical Theological Society. He has written several books and articles on biblical studies.Miles V. Van Pelt (PhD, The Southern Baptist Theological Seminary) is the Alan Belcher Professor of Old Testament and Biblical Languages, academic dean, and director of the Summer Institute for Biblical Languages at Reformed Theological Seminary, Jackson. He also serves on the pastoral staff of Grace Reformed Church in Madison, Mississippi. He and his wife, Laurie, have four children.Dane C. Ortlund (PhD, Wheaton College) is chief publishing officer and Bible publisher at Crossway. He serves as an editor for the Knowing the Bible series and the Short Studies in Biblical Theology series, and is the author of several books, including Gentle and Lowly and Edwards on the Christian Life. He is an elder at Naperville Presbyterian Church in Naperville, Illinois. Dane lives with his wife, Stacey, and their five children in Wheaton, Illinois.