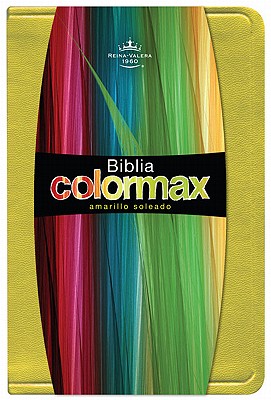 Biblia Colormax-Rvr 1960-Pocket (Imitation Leather)
B&H Espanol, 9781433601491, 1024pp.
Publication Date: May 1, 2011
* Individual store prices may vary.
or
Not Currently Available for Direct Purchase
Description
RVR 1960 Colormax Bibles are pocket sized and designed with bright colors for any young person who is bold about sharing their faith Newly available in sunny yellow and sky blue imitation leathers, this Bible's features include:
- Words of Christ in red
- Presentation page
- End-of-page references
- 62-page concordance
- Plan of salvation
- Summary of each Bible book
- Where to turn when . . .
- Jesus and the Ten Commandments
- The apostles and their history
- Bible history overview
- O-wrap packaging Las
RVR 1960 Biblias Colormax
vienen en tamano de bolsillo y se caracterizan por un diseno de colores brillantes para todo joven que testifica de su fe con audacia Recientemente, esta Biblia salio con una encuadernacion de imitacion piel, en colores amarillo soleado y cielo limpido. Entre sus caracteristicas se incluye: - Las palabras de Cristo en rojo
- Pagina de dedicatoria
- Notas al pie
- Concordancia de 62 paginas
- Plan de salvacion
- Resumen de cada libro de la Biblia
- Indice de pasajes acordes a cada necesidad
- Jesus y los diez mandamientos
- Los apostoles y su historia
- Panorama de la historia biblica
- Envoltura en manga
Advertisement