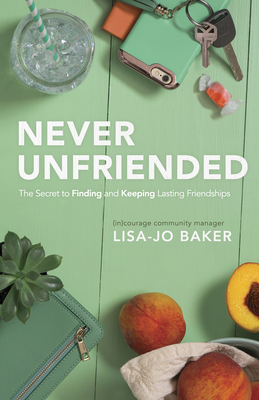 Never Unfriended (Paperback)
The Secret to Finding & Keeping Lasting Friendships
B&H Books, 9781433643064, 208pp.
Publication Date: April 4, 2017
* Individual store prices may vary.
Description
In a world where women can unfriend each other with the swipe of a finger, how do we find friendships that we can trust to last? Maybe by first becoming those kinds of lasting friends ourselves.
As the community manager at the website incourage.me since 2010, Lisa-Jo Baker has had the chance to engage hundreds of conversations with women about friendship. She's learned that no one can make us quite as unsure about ourselves as another woman. And nothing can wound as deeply as unkind words from a friend. While we are all hungry for friendship, it's the fear of feeling awkward and being rejected, left out, or hurt (again) that often keep us from connecting.
But what if we knew we could never be unfriended? Would we risk friendship then? 
Starting with that guarantee from the most faithful friend who ever lived—Jesus—this book is a step-by-step guide to friendships you can trust. It answers the questions that lurk under the surface of every friendship—What are we afraid of? What can't we change? What can we change? And where do we start?—with personal stories and practical tips to help you make the friends, and be the friend, that lasts.
About the Author
Lisa-Jo Baker has been the community manager for www.incourage.me, an online home for women all over the world, for nearly a decade. She is also the author of Surprised by Motherhood, and her writings have been syndicated from New Zealand to New York. She lives just outside Washington, DC, with her husband and their three very loud kids, where she connects, encourages and champions women in person and through her popular blog, lisajobaker.com.
 

At (in)courage you are welcome to a place of faith, connection and friendship, where you will always find yourself among friends. Founded in 2009 by DaySpring, the Christian products subsidiary of Hallmark Cards, Inc., the vision for (in)courage was to create a new home for the hearts of women, where women take turns pulling up a chair to share their stories of what Jesus looks like in their everyday, gloriously ordinary, and often messy lives. Since then, (in)courage has grown into a vibrant community that reaches thousands of women every day, welcoming them just the way they are, offering a space to breathe, loving support, and resources for meaningful connection.