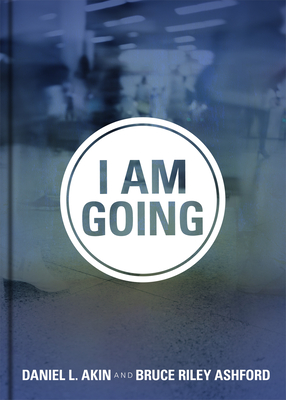 I Am Going (Hardcover)
B&H Books, 9781433643200, 160pp.
Publication Date: October 1, 2016
* Individual store prices may vary.
Description
Are You Going?
The lives of many believers rarely escape the tight orbits that circle around their own schedules, their own interests. The familiar gravity of familiar places. But the trajectory of our faith should be one that's continually cycling outward, fueled by a mission and message that God first brought within reach of 
us . . . 
so that we can now join with Him in taking it within reach of others.  
Authors 
Daniel L. Akin
and
Bruce Riley Ashford
are calling today's church members to lives of 
going—
whether going around the world or to people right where they live—going out with the gospel of Jesus Christ. Between the two of them, Akin and Ashford have trained thousands of men and women in both the mandates and methods for going to every nation. Now they have created a resource for individuals and churches to use together in calling even more to go.
Readers will:
Learn the mission of God
Understand the centrality of the church to going on mission with God
Be challenged to go to the nations with the gospel of Jesus Christ
Be challenged to go to their own neighborhoods with the gospel of Jesus Christ
Learn to use their jobs as vehicles for the gospel
Be challenged to commit to go anywhere on mission with God
About the Author
Daniel L. Akin is the president of Southeastern Baptist Theological Seminary in Wake Forest, North Carolina. He holds a Ph.D. in Humanities from the University of Texas at Arlington and has authored or edited many books and Bible commentaries including Ten Who Changed the World and the Christ-Centered Exposition Commentary volumes on Mark and 1, 2, 3 John.
Bruce Riley Ashford is married to Lauren, with whom he has two children, Riley Noelle and Anna Katherine. He was born in Chesapeake, VA, but spent his childhood years in Roseboro, NC. He received his B.A. in Communications from Campbell University. Upon graduation from Campbell, he entered Southeastern Baptist Theological Seminary, where he received his Master of Divinity. After spending two years in Central Asia as a university instructor, he returned to the United States to enter the Ph.D. program at Southeastern. He defended his dissertation, "Wittgenstein's Impact on Anglo-American Theology: Representative Models of Response to Ludwig Wittgenstein's Later Writings," in December 2003. Southeastern College and Seminary hired him in 2003, where he has taught courses in theology, philosophy, and missiology, and where he remains today as Associate Professor of Theology & Culture.

He is the editor of Theology & Practice of Mission (Nashville: B&H, 2011).

In January 2009, Ashford became the Dean of The College at Southeastern.

He is a member of the American Academy of Religion, the Evangelical Philosophical Society, the Evangelical Theological Society, American Philosophical Association, and the Evangelical Missiological Society.

In addition to his teaching schedule, Ashford has taught or preached for churches of various denominations, including Southern Baptist, American Baptist, Mennonite, Presbyterian Church-USA, Presbyterian Church of America, United Methodist Church, Episcopal, Assemblies of God, Church of God, United Pentecostal, Four Square, and Russian Baptist.
He has also worked and toured overseas in The Pacific Rim (Cambodia, Indonesia, Laos, Malaysia, Myanmar, Singapore, Thailand, Vietnam), North Africa & The Middle East (Bahrain, Egypt, Morocco, Jordan, Oman, United Arab Emirates), West Africa (Ivory Coast, Liberia), Sub-Saharan Africa (Botswana, Kenya, Madagascar, South Africa, Tanzania, Uganda), Central Asia (Armenia, Turkey, Uzbekistan), South Asia (India), East Asia (China), Central & Eastern Europe (Czech Republic, Greece, Hungary, Romania, Russia), Western Europe (France, Germany, Great Britain, The Netherlands, Switzerland) and the Caribbean (The Bahamas, Jamaica).

He has lectured or spoken on college campuses, including UNC-Chapel Hill, Duke University, University of Florida, Appalachian State University, Methodist College, UNC-Wilmington, UNC-Greensboro, Gardner-Webb University, Campbell University, West Virginia University, Marshall University, Anderson College, Criswell College, and Kazan University (Russia).

Recently, he was a co-recipient of a creative teaching grant from Yale Divinity School's Center for Faith and Culture. Together with David Nelson, associate professor of theology at Southeastern, he received one of four $5,000 awards from Yale for a course they designed to help pastors equip their congregations to live wisely in the context of contemporary American culture.