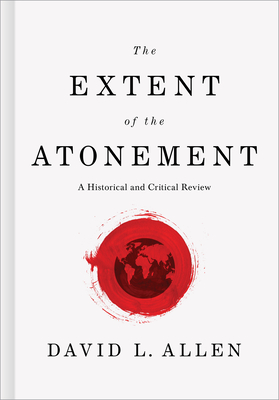 The Extent of the Atonement (Hardcover)
A Historical and Critical Review
B&H Academic, 9781433643927, 848pp.
Publication Date: November 1, 2016
* Individual store prices may vary.
Description
The extent of Christ's atoning work on the cross is one of the most divisive issues in evangelical Christianity. In The Extent of the Atonement: A Historical and Critical Review, David L. Allen makes a biblical, historical, theological, and practical case for a universal atonement. Through a comprehensive historical survey, Allen contends that universal atonement has always been the majority view of Christians, and that even among Calvinist theologians there is a considerable range of views. Marshalling evidence from Scripture and history, and critiquing arguments for a limited atonement, Allen affirms that an unlimited atonement is the best understanding of Christ's saving work. He concludes by showing that an unlimited atonement provides the best foundation for evangelism, missions, and preaching.         

About the Author
David L. Allen es decano de la Escuela de Teología, profesor de Predicación y director del Centro para la Predicación Bíblica en el Seminario Teológico Bautista del Sudoeste de Fort Worth, Texas (EE.UU.).

David Allen is dean of the School of Theology, professor of Preaching, and director of the Center of Biblical Preaching at Southwestern Baptist Theological Seminary in Fort Worth, Texas.
Praise For The Extent of the Atonement: A Historical and Critical Review…
"The Extent of the Atonement offers a penetrating and perceptive treatment of a thorny, divisive theological issue. David Allen's command of the subject as well as his ability to lay out clearly and fairly the competing theories and arguments is masterful. I found his critique of the doctrine of limited atonement fully persuasive. This book is must reading for all who want to understand better the Calvinism debate."
 
—Craig A. Evans, dean of the School of Christian Thought and John Bisagno Distinguished Professor of Christian Origins, Houston Baptist University 
 
 
 
"The extent of the atonement is among the most controversial questions in Reformed theology. It is probably also the most confusing and misunderstood. . . . Enter David Allen's monumental book, an absolute tour de force. The Extent of the Atonement leaves no stone unturned in tracing the history of the doctrine, critiques every view and proponent with penetrating insight, and is written with a persuasive cogency throughout. The book is an education in how to do theology responsibly and how to read the Bible faithfully. To top it off, Allen writes with the heart of a pastor and the wit and wisdom of a seasoned preacher. A must-read for anyone interested in the question of what the cross achieves."
 
—Brian Rosner, principal, Ridley College, Melbourne, Australia
 
 
 
"The issue of limited atonement has proved a controversial matter for many years and one that is unlikely to disappear at any time in the near future. One of the reasons for this is that the question it seeks to answer is one which developed over time and has a number of subtle and sophisticated facets. . . . While David Allen and I disagree on the matter, this work is an irenic and learned contribution to the topic which carries the historical, and thus doctrinal, discussion forward in an extremely helpful way. I am thus happy to recommend this work of a friendly critic. It deserves wide readership and careful engagement."
 
—Carl R. Trueman, Paul Woolley Chair of Church History and professor of church history, Westminster Theological Seminary