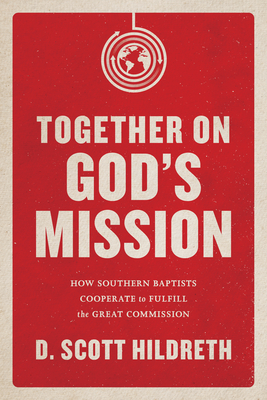 Together on God's Mission
How Southern Baptists Cooperate to Fulfill the Great Commission
Paperback

* Individual store prices may vary.
Description
Together on God's Mission investigates Southern Baptist history, showing how and why the Southern Baptist Convention came to embrace the vision of a cooperative denomination. It also explores how this vision has shaped denominational identity and structure. This historical study is followed by a discussion of the biblical description of how the mission of God determines the mission of the church. This study shows that God's mission is not simply furthered by churches working together, but rather that cooperation between churches makes up a key component of God's mission. Finally, the study concludes that the Southern Baptist Convention is uniquely positioned to enable churches to fully participate in God's mission to redeem the nations and restore creation from the effects of the Fall.
Praise For Together on God's Mission: How Southern Baptists Cooperate to Fulfill the Great Commission…
"When Southern Baptists voluntarily work in partnership through the Cooperative ministries of the SBC, we are following a pattern found in Scripture. It is a pattern that allows us truly to do more together than we could ever do apart. It is pattern that is biblically justified, theologically sound and practically wise. It involves the sacrificial giving of our financial resources to be sure, but it is so much more than this. This is the argument my colleague and friend Scott Hildreth makes in Together on God's Mission: How Southern Baptists Cooperate to Fulfill the Great Commission. He is quite successful in his assignment."
—Daniel L. Akin, president, Southeastern Baptist Theological Seminary

"The cooperative partnership of Southern Baptists may not be perfect but it is proven and profound. In Together on God's Mission, Scott Hildreth provides a timely resource that not only advocates for the financial wisdom of the Southern Baptists' Cooperative Program but also advances the theological foundation of this cooperative partnership for a new generation. As an experienced missionary and seminary professor, Hildreth provides a concise and helpful orientation of how churches unite to form a mighty Great Commission coalition as they join together on God's mission."
—Brian Autry, executive director, SBC of Virginia
 
"From their earliest days, Baptist churches have cooperated together for the sake of kingdom priorities such as missions, education, and public engagement. As Southern Baptists, we cooperate through our structures and strategy, which are linked together in the Cooperative Program. Every generation brings new challenges and fresh opportunities, and as this happens, pastors and other leaders need to be reminded anew of the importance of gospel-centered cooperation among churches of 'like faith and order' (as old-fashioned Baptists used to say). To that end, Scott Hildreth has written a book for such a time as this. Together on God's Mission gives us the perfect combination of Baptist history, sound biblical exegesis, missional theology, and constructive application."
—Nathan A. Finn, dean, School of Theology and Missions, and professor of Christian thought and tradition, Union University
 
"Scott Hildreth has done Southern Baptists a great service by providing this book. Of particular help, in my mind, is his commitment to help the SBC ground their partnership in theology rather than pragmatics. If you are Southern Baptist and care about cooperative mission, you should read this book." 
 —Micah Fries, senior pastor, Brainerd Baptist Church, Chattanooga, TN
 
"The perfect primer for getting your mind around the Cooperative Program—its unique opportunities, current challenges and the way forward. Dr. Hildreth brings to this book an understanding that comes from years of working 'inside' the system and the passion from having depended on the Cooperative Program while he served on the front lines of global missions."
 —J.D. Greear, pastor, The Summit Church, Raleigh-Durham, NC
 
"In this informative book, Scott Hildreth shares from the rich knowledge he has gained as an IMB missionary and a professor of missions at a Southern Baptist seminary. With a succinct overview of how the Southern Baptist Convention came into being and grew to become the strongest Protestant missionary force in existence, Hildreth champions the benefit of a missions funding system that Southern Baptists know as the Cooperative Program. Together on God's Mission explains why cooperation and personal involvement in missions is the heartbeat of who Southern Baptists have been and still remain. Hildreth's work also reveals how those who hold to Baptist distinctives along with their personal convictions can work together in fulfilling the Great Commission. He reminds us that we can function most effectively in reaching the nations when we seek unity under our common statement of faith and around our common cooperative vision. Readers will benefit greatly from Hildreth's book, whether or not they grew up in a Southern Baptist church."
 —Milton A. Hollifield Jr., executive director-treasurer, Baptist State Convention of North Carolina
 
 "In the backward horizon of the Southern Baptist Convention, we can see dark clouds of human sin, but we can also see the lightning of God's grace. In Together on God's Mission, Scott Hildreth shows us how to spot such grace, and how to respond with gratitude. The book will help a new generation of Baptist Christians learn from our past in order to forge a future of cooperation for mission." 
 —Russell Moore, president, The Ethics and Religious Liberty Commission of the Southern Baptist Convention  
  
"In Together on God's Mission, Scott Hildreth demonstrates that our convention priorities and our Cooperative Program are not only practical, they are biblical. This book tells the story of the development of Southern Baptist cooperation and shows how our structure and vision fits within God's global mission. It is well researched and accessible. I commend this book as a valuable tool for students, missionaries, pastors, as well as the masses of Southern Baptists across our convention who are called to share in God's mission of making disciples of all nations."
 —Ed Stetzer, Billy Graham Professor of Church, Mission, and Evangelism, and executive director of The Billy Graham Center for Evangelism, Wheaton College. 
 
 
B&H Academic, 9781433643941, 112pp.
Publication Date: January 15, 2018
About the Author
D. Scott Hildreth is assistant professor of global studies and director of the Center for Great Commission Studies at Southeastern Baptist Theological Seminary in Wake Forest, NC. 
or
Not Currently Available for Direct Purchase