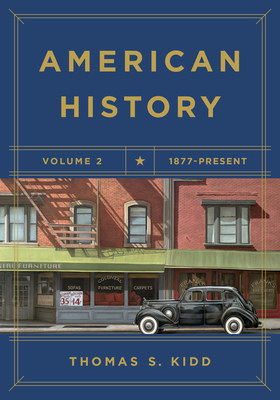 American History, Volume 2
1877 - Present
Paperback

* Individual store prices may vary.
Description
American History volume 2 gives a wide overview of America's history from the end of the Civil War era, to the political and cultural struggles of contemporary times. Thomas S. Kidd employs lessons learned from his own scholarly expertise and history classes to weave together a compelling narrative of the defeats and triumphs that have defined the American national experience. Unlike many textbooks of modern American history, religion and faith remain central aspects of the book's coverage, through present-day America. It gives detailed treatment of episodes such as America's military conflicts, the Civil Rights movement, and the culture wars of the past half-century. Professor Kidd also considers the development of America's obsession with entertainment, from the rise of the first movies, to the social media age. American History volume 2 will help students wrestle with the political and cultural changes that have dramatically transformed contemporary American life
B&H Academic, 9781433644436, 368pp.
Publication Date: April 1, 2019
About the Author
Thomas S. Kidd is the associate director of the Institute for Studies of Religion, and distinguished professor of history at Baylor University.