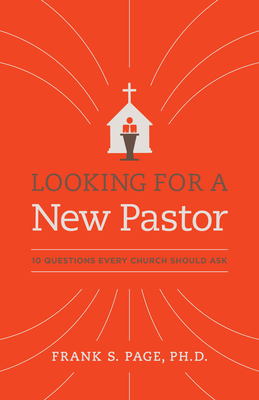 Looking for a New Pastor (Paperback)
10 Questions Every Church Should Ask
B&H Books, 9781433644511, 176pp.
Publication Date: June 1, 2017
* Individual store prices may vary.
Description
Your senior pastor has just stepped down. Your church is at a loss. Where do you go from here?
Looking for a New Pastor: 10 Questions Every Church Should Ask, is a product of more than three decades of full-time, pastoral ministry from Frank Page. This is truly one of the most practical works on the subject that has ever been published. Using Scripture as the foundation and real-life examples of searches done well and searches gone bad, Frank Page gives advice on what to look for, what to ask, and what to do.
Looking for a New Pastor uses insider experience and information to answer questions that all search committees ask. It lists warning signs for every church, and includes questions that churches and prospective pastors alike wish they had known to ask. Looking for a New Pastor deals with the "how-to" of a pastor search, but more importantly, it deals with the "why" and "why not."
The importance of having a pastor who will shepherd your flock well cannot be overstated. With this book, Frank Page has provided a great resource for churches seeking to discern the will of God in their search for a pastor.
About the Author
Frank S. Page has been president and chief executive officer of the Southern Baptist Convention Executive Committee since October 1, 2010. He was president of the Southern Baptist Convention from 2006-2008. In his current role, he oversees the convention work of 46,000 plus churches and over 16 million members.
Prior to moving to Nashville, Dr. Page served as Vice President for the Evangelization Group at the North American Mission Board (NAMB), Alpharetta, Georgia. He has also served as pastor for Taylors First Baptist Church, Taylors, South Carolina, and churches in Georgia, Texas, and North Carolina for the past thirty-four years.
Dr. Page was born in North Carolina and received a Bachelor of Science degree from Gardner-Webb University, as well as a Master of Divinity and Ph.D. from the Southwestern Baptist Theological Seminary in Fort Worth, Texas. He is an author, has traveled extensively, and has spoken on every continent.
Dr. Page is married to the former Dayle Gibson of Huntersville, North Carolina. They have three beautiful daughters and are also blessed to have four grandsons and one granddaughter.
Follow Dr. Page on Facebook (Frank S. Page) and Twitter (@frankpagesbc).
or
Not Currently Available for Direct Purchase