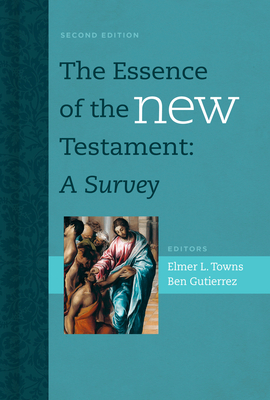 The Essence of the New Testament
A Survey
Hardcover

* Individual store prices may vary.
Description
The Essence of the New Testament, Second Edition surveys the books of the New Testament from Matthew to Revelation. Drawing on decades of scholarly research and classroom teaching, the authors provide a practical, readable, and insightful introduction to the second major division of the Christian biblical canon.
This new edition contains new information about the emergence of an early Christian canon, the significance of Second Temple Judaism for New Testament study, an overview of tools for New Testament research, an introduction to Jesus studies, and a synopsis of the relationship of the Old Testament to the New Testament. 

Other beneficial features for students and instructors include:
·         More than 150 full-color photographs, maps, illustrations, and charts
·         Introductions to each New Testament book, including background, outline, message, and theological significance
·         Introductory chapters on how we got the New Testament, principles of interpretation, the intertestamental period, and the Synoptic problem
·         Sidebars focusing on significant topics and Greek word studies for English readers
·         Study questions and recommended further reading

Editors Elmer L. Towns and Ben Gutierrez draw from their years of teaching experience to provide a time-tested New Testament overview written at the college level, yet also appropriate for pastors, scholars, and laypeople. They combine the finest evangelical scholarship with a passion to open windows of spiritual and practical insight into the biblical text.

B&H Academic, 9781433644900, 400pp.
Publication Date: November 1, 2016
About the Author
Elmer L. Towns es cofundador de la Universidad Liberty en Lynchburg, Virginia, y decano de la Facultad de Estudios de Religión de dicha institución. Es autor de éxitos editoriales y ha sido galardonado con la medalla de oro de la ECPA al proclamarse como libro del año su obra titulada The Names of the Holy Spirit [Los nombres del Espíritu Santo].

Elmer Towns is cofounder of Liberty University in Lynchburg, Virginia, and dean of its School of Religion. Also a best-selling author, he won an ECPA Gold Medallion Book of the Year Award for The Names of the Holy Spirit.
or
Not Currently Available for Direct Purchase