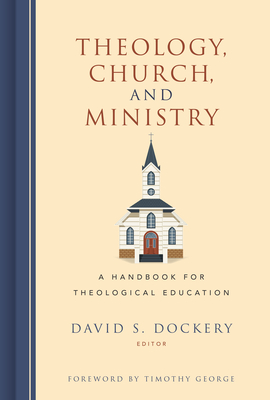 Theology, Church, and Ministry
A Handbook for Theological Education
Paperback

* Individual store prices may vary.
Description
We live in a precarious time when many are questioning the necessity of formal theological education for ministers.  Theology, Church, and Ministry: A Handbook for Theological Education helps readers understand the critical role theological education plays in equipping God-called ministers for service in the church. This distinct resource explains both the development and purpose of theological education as well as its role in student formation. The contributors include outstanding thinkers and leaders in the field of theological education, including Con Campbell, Tim Tennent, Mark Bailey, Kevin Vanhoozer, Dan Block, Robert Smith, Dana Harris, Malcolm Yarnell, Danny Akin, and Greg Wills, among others.
 
Praise For Theology, Church, and Ministry: A Handbook for Theological Education…
"Theology, Church, and Ministry: A Handbook for Theological Education is an invaluable resource for the academy, the church, and all who care about theological education. It's both instructive and inspiring. I highly recommend it."
 —Jason K. Allen, president, Midwestern Baptist Theological Seminary

"The book presents an integrated and holistic vision for theological education. The application of this vision will lead to a greatly strengthened local church ministry that is both biblically rooted and culturally relevant."
—Clinton E. Arnold, dean and professor of New Testament language and literature, Talbot School of Theology, Biola University
 
"In this impressive volume, David Dockery and a cadre of established scholars grapple with how to reintegrate the theological and ministerial disciplines that have been bifurcated over the past several centuries. I recommend it highly, not only for professors, but for pastors, seminary students, and theologically-minded Christians."
 —Bruce Riley Ashford, provost and professor of theology and culture, Southeastern Baptist Theological Seminary
 
"It reveals the value of theological reflection in its myriad ways of thinking about topics textually, theologically, historically, ethically, and transformatively, all with a view to edifying both the minister and the church. Simply well done."
 —Darrell L. Bock, senior research professor of New Testament studies and executive director of cultural engagement, Hendricks Center, Dallas Theological Seminary
 
"In a time when ministerial training is often characterized by sharp divisions between disciplines as well as pedagogies aimed at passing on skills and information, the contributors refreshingly lead readers to a vision for theological integration aimed at spiritual formation. This is an important read for all of those involved in theological education."
 —Joshua D. Chatraw, associate professor of theology and apologetics and executive director, The Center for Apologetics and Cultural Engagement, Liberty University
 
"Theology, Church, and Ministry establishes and emphasizes the synergistic connection between seminary and church, between theological education and ministry. Readers of this book whether in the West or in the Two-Thirds World, will not only appreciate the holistic view of theological education presented, but will be compelled to devote themselves to its high calling."
—Choon Sam Fong, dean of academic studies, Baptist Theological Seminary, Singapore
  
"It is carefully crafted to prepare theological educators to be more well informed and integrally involved so that evangelical theological education becomes more missional and applicable while firmly rooted in the biblical and historical teachings. I greatly appreciate David Dockery and the many other writers for not only sharing their wisdom and experiences, but also for pushing their boundaries to be more global and futuristic."
 —Jung-Sook Lee, president and professor of church history, Torch Trinity Graduate University, Seoul, South Korea
 
"Theology, Church, and Ministry: A Handbook for Theological Education reminds us of the essential kingdom partnership that is needed between the church and the academy in the preparation of God-called ministers of the gospel. This important work will serve as an essential resource for those asking why we need theological education in the 21st century."
 —Ed Stetzer, Billy Graham Professor of Church, Mission, and Evangelism, and executive director, The Billy Graham Center for Evangelism, Wheaton College
 
"At last, a book that strikes a compelling balance between the rigor of deep theological thought and the development of ministerial skill rooted in the fertile soil of biblical conviction. . . . Theology, Church, and Ministry: A Handbook for Theological Education is a must read for those of us who care about pleasing our Lord with our work and blessing his flock with our gifts."
 —Joseph Stowell, president, Cornerstone University/Grand Rapids Theological Seminary
 
"Theology, Church, and Ministry is a most timely book. In a rapidly changing world where new challenges to remain faithful to the call of Christ present themselves to the church on what seems like a weekly basis, this book proves invaluable. . . . This collection of essays is a rich and fruitful read for gospel ministers who are serious about their calling in times like these."
—Preben Vang, professor of Christian Scriptures and director, Doctor of Ministry Program, George W. Truett Theological Seminary, Baylor University
  
"This is a superlative, long awaited reference volume for those who are leaders or supporters of theological education. . . . I wish such an outstanding volume had been available to me many years ago when I became involved in theological education."
—Luder G. Whitlock Jr., president emeritus, Reformed Theological Seminary
 
B&H Academic, 9781433645839, 464pp.
Publication Date: October 15, 2017
About the Author
David S. Dockery es presidente de Union Univeristy en Jackson, Tennessee. Es autor y editor de más de 30 libros, entre ellos Renewing Minds [Renovando la mente], Southern Baptist Consensus and Renewal [El consenso y renovación de los bautistas del sur], Theologians of the Baptist Tradition [Teólogos de la tradición bautista], y Holman Bible Handbook​ [Manual bíblico Holman]. Dockery sirve en diferentes comités de educación y ministerio y es un editor para la revista Christianity Today. 

David S. Dockery is president of Union University in Jackson, Tennessee. He is the author or editor of more than thirty books, including Renewing Minds, Southern Baptist Consensus and Renewal, Theologians of the Baptist Tradition, and the Holman Bible Handbook. Dockery serves on several education and ministry boards and is a consulting editor for Christianity Today magazine.
or
Not Currently Available for Direct Purchase