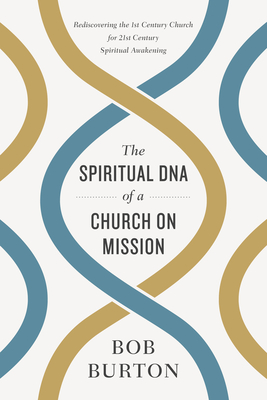 The Spiritual DNA of a Church on Mission
Rediscovering the 1st Century Church for 21st Century Spiritual Awakening
Paperback

* Individual store prices may vary.
Other Editions of This Title:
Paperback (12/15/2019)
Description
In Spiritual DNA of the Church On Mission, author Bob Burton compares the missional foundation of the early church to human DNA. He argues that understanding the Church's missional DNA is the most effective starting point in engaging your church members on God's mission for the sake of total gospel transformation. 
Praise For The Spiritual DNA of a Church on Mission: Rediscovering the 1st Century Church for 21st Century Spiritual Awakening…
"Bob Burton has captured the essence of a church on mission. It is not about what the church dreams up to do for God, but what God chooses to do through a local church. I have known Bob for many years and have always appreciated his passion for the Church and God's plan to use it to transform the world."

—Henry Blackaby, founder, Blackaby Ministries International
 
"Some books are written from library knowledge, others from battlefield experience.  Bob Burton combines the strength of both approaches in his helpful book. The footnote citations show his awareness of helpful resources, but his own experience in local church life for decades brings a ministry-tested realism to his writing. I have been encouraged and challenged by this work. You will be as well!"

 —Timothy K. Beougher, Billy Graham Professor of Evangelism, associate dean, Billy Graham School of Missions, Evangelism and Ministry, The Southern Baptist Theological Seminary

"The Spiritual DNA of a Church on Mission is not another attempt to work up the church masses to move outside their doors, but a solid biblical plan of action. Every pastor, church planter, and seminary student must get a copy of this book to understand and practice missionary behavior in their life and the life of their church!"
 
—Jeff Calloway, elder, Bridge Church, Perry, OH
 
"The Spiritual DNA of a Church on Mission is a welcome resource for pastors seeking to lead their congregations to accomplish the mission of Jesus to 'seek and to save the lost'. This book has both passion and a plan. The integration of small group study in Acts, prayer strategy, Bible reading plan, sermon helps, and contemporary stories readers fully immerse themselves in the early church in Acts. I wholeheartedly recommend this book for those who want to experience God's touch upon their church and community."
 
—Andre' Dobson, senior pastor, Calvary Baptist Church, Alton, IL
 
"Burton draws on years of involvement in the church planting movement in North America. He is a seasoned veteran and a walking encyclopedia of knowledge. This book is a must-read to get a good grasp on our genetic roots, and an understanding of how God has wired and embedded his DNA in the 21st century North American church."
 
—Sam Douglass, director of unreached, unengaged people groups and new countries, Dynamic Church Planting International
 
 "Missional drift destroys effectiveness, hurts morale, erodes unity and eventually causes people to question whether an organization even needs to exist. This is the risk so many churches face as they are drawn to 'good' activities that ultimately distract from their primary mission. Burton has put the on-mission church under a microscope, and he unpacks the key elements that must be present if we are to stay on target with the mission Jesus gave."

—Kevin Ezell, president, North American Mission Board

 "The Spiritual DNA of a Church on Mission combines historical data with scriptural counsel and recommended best practices. Bob takes into account the seismic demographic shift in America and gives solid biblical advice that every church needs to hear and heed. Every church leader looking to make an impact on their community needs to read this book."
 
—Mark Hearn, pastor, First Baptist Church, Duluth, GA.
 
"The Spiritual DNA of a Church on Mission is a must-read for the American pastor and missionary. It is written from conviction and personal experience. You will be blessed!"
 
—Neal Hughes, director of missions, Montgomery Baptist Association
 
"Bob Burton has proven to be a valuable asset in today's Kingdom work. As a pastor he has experienced the challenges that every local church faces, and as a church planting specialist for the North American Mission Board he has successfully navigated uncharted waters. I am convinced that The Spiritual DNA of a Church on Mission will help existing churches recommit and refocus on the task of reaching the lost as well as influence new churches to start with priorities and practices that will produce fruit immediately. This is a 'how-to' book that actually tells you how to do it. Do not start another project or ministry unless you have read it."
 
—Johnny Hunt, senior vice president of evangelism and leadership, North American Mission Board, pastor, First Baptist Church, Woodstock, GA, and former president, the Southern Baptist Convention
 
"The Spiritual DNA of a Church on Mission hits at the heart of what North America and the world need: renewal and spiritual awakening. I am particularly pleased by this work's emphasis on prayer, without which we can never do all that God asks us to do. Even if you differ at points with this book, you will come out with a genuine desire for God to do something mighty in and through your church."
 
—Chuck Lawless, vice president, spiritual formation and ministry centers, dean, doctoral studies, professor, evangelism and missions, Southeastern Baptist Theological Seminary, and team leader, theological education strategists, International Mission Board."
 
"In The Spiritual DNA of a Church on Mission, Burton challenges the local church to rediscover and freshly apply mission principles by fully immersing themselves in the book of Acts. God has faithfully written the 'script' for His followers. The Holy Scriptures instruct, guide, inform and inspire us to live according to our God-given spiritual missionary DNA. Bob is pointing us to that script."
 
—Fred Luter, Jr. pastor, Franklin Avenue Baptist Church, New Orleans, LA, and former president, the Southern Baptist Convention
 
"Too often our churches are dry deserts, parched by the selfishness and consumerism plaguing modern Christianity. Bob shows us that the book of Acts contains everything our congregations need to develop a missions lifestyle. The Spiritual DNA of a Church on Mission provides an extensive biblical foundation, as well as helpful insights and practical suggestions to help your church reclaim its missionary DNA."
 
—Sandy Wisdom-Martin, executive director-treasurer, Woman's Missionary Union
 
 "A biblical and practical guide! Burton does a wonderful job describing healthy characteristics of the church. But he does not stop there. Beginning with Scripture and transitioning to contemporary examples and action steps, he takes us from the theoretical and moves to reality. No armchair expert here. Learn from this work, but apply it for the glory of God among the nations."
 
—J. D. Payne, associate professor of Christian ministry, Samford University
 
 "In the New Testament, we discover that the local church was born to join in God's global mission. Bob Burton clearly understands this reality and provides a fresh look at the early church's participation in God's kingdom activity as revealed in the pages of the book of Acts. His practical unpacking of The Spiritual DNA of a Church on Mission is a phenomenal resource for any church longing to greater understand its role in God's glorious mission."

—Vance Pitman, senior pastor, Hope Church, Las Vegas, NV
 
"In his DNA themed book and workbook, Burton has passionately and creatively called the church to rediscover the first century church in Acts. He has captured just how an immersion in the book of Acts will change the missional culture of a church. If you and your church apply the ten spiritual DNA principles expressed by the first century churches, then you will be in a position to experience the transformation that only God can give through the power of the Holy Spirit. Read this book and discover your God-given missionary DNA."
 
—Bobby Sena, assistant professor of ministry, director, Hispanic D.Min., Midwestern Baptist Theological Seminary
 
B&H Academic, 9781433645877, 224pp.
Publication Date: December 15, 2019
About the Author
Bob Burton is a sending church coach and pipeline specialist through the SEND Network of the North American Mission Board.