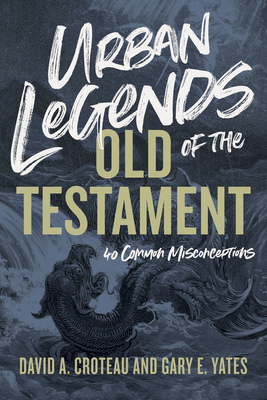 Urban Legends of the Old Testament
40 Common Misconceptions
Paperback

* Individual store prices may vary.
Description
Urban Legends of the Old Testament surveys forty of the most commonly misinterpreted passages in the Old Testament. These "urban legends" often arise because interpreters neglect a passage's context, misuse historical background information, or misunderstand the original language of the text.

With a pastoral tone and helpful explanations of where the error originally occurred, authors David A. Croteau  and Gary E. Yates tackle legendary biblical misinterpretations of topics like the origin of evil or the purpose of Mosaic food laws, as well as common misconceptions about dinosaurs, or NASA discovering Joshua's long day.  Urban Legends of the Old Testament will help readers avoid missteps in the interpretation of key biblical texts while modeling interpretative techniques that can also be applied to other Old Testament passages.  
 
Praise For Urban Legends of the Old Testament: 40 Common Misconceptions…
"This is an important book for the church. It clarifies problems and gives carefully crafted and nuanced explanations and corrections to common misunderstandings about what the Old Testament teaches. It is not surprising that such an ancient text written in such a different place and cultural context could be difficult to understand in today's world, at least in some of its parts. Naturally, some readers might quibble about certain points, but the authors select the problems well and treat them in a fair, judicious, and helpful manner."
 
—Richard E. Averbeck, director, PhD in Theological Studies, professor of Old Testament and semitic languages, Trinity Evangelical Divinity School
 
"Unfortunately 'urban legends' grow like weeds in the garden of biblical interpretation. In this volume the authors do some much-needed weeding. Using sound interpretive principles and insightful contextual exegesis, they expose forty common misconceptions about Old Testament passages. Each chapter is clearly written and concise. The epilogue to the book, though short, is especially helpful. The authors here explain how interpretive misconceptions get started. In the process, they identify several key principles for proper biblical interpretation which, if followed, will go a long way toward weed prevention."
 
—Robert B. Chisholm, Jr., department chair, senior professor of Old Testament studies, Dallas Theological Seminary
 
"I have sometimes thought about writing a book called 'What the Bible Doesn't Teach,' but now I will forget the idea; David Croteau and Gary Yates have done it. This book is a magnificent debunking of forty mistaken ideas about the Old Testament. It will be great if pastors, Sunday school teachers, and Bible study leaders read it, causing some of these urban myths to die." — John Goldingay, professor of Old Testament and David Allen Hubbard Professor Emeritus of Old Testament, Fuller Theological Seminary"It is important to know what the Bible says, but it is also important to know what the Bible does not say. Croteau and Yates have produced a very informative and fascinating book to help us disentangle fact from fiction in a number of OT passages. This is an outstanding book and I highly recommend it; but—spoiler alert—be warned, you just may run into some of your own favorite [mis]interpretations here! That is all the more reason for all of us to read it."
 
—J. Daniel Hays, dean, Pruet School of Christian Studies, professor of biblical studies Ouachita Baptist University
 
"As a veteran of battling poor thinking about Scripture on the front lines of the internet and in the classroom, it is hard to express how much this book is needed and how it succeeds in hitting the mark. The authors are seasoned Bible scholars and professors with a heart to nurture clarity and faithfulness to the biblical text among their students. Readers who find among its pages one of their own cherished myths about something the Bible "teaches" might be miffed. Others—and I count myself among them—will cheer its direct yet irenic and engaging rebuttals and debunkings. This book will be a recommended antidote to careless Bible study and the propensity to impart its flawed results to others."

—Michael S. Heiser, scholar-in-residence, Faithlife

 "It's rare to come across a book that is as engaging as it is scholarly, and as fascinating as it is edifying. Whether read cover to cover or used as a reference book, Urban Legends of the Old Testament will serve casual readers, study groups, and scholars well." 

—Karen Swallow Prior, professor of English, Liberty University

 "The authors of this book have done a remarkable job of choosing just the right issues to address, and they have offered thoughtful, balanced, well-researched, and gracious suggestions to help us adjust our thinking. Leaving behind these 'urban legends' will aid us on our quest to be faithful interpreters of God's Word who are accountable to the inspired Scripture. Reading this book will help pastors, Bible study leaders, and Sunday school teachers avoid these traditional pitfalls. Laypeople will find it readable and practical. In short, I recommend this book for anyone who wants to become a better reader of the Old Testament."

—John Walton, professor of Old Testament, Wheaton College
 
B&H Academic, 9781433648328, 288pp.
Publication Date: December 1, 2019
About the Author
David A. Croteau (PhD, Southeastern Baptist Theological Seminary) is professor of New Testament and associate dean at Columbia Biblical Seminary of Columbia International University.

Gary E. Yates es profesor asociado de Antiguo Testamento en la Universidad Liberty.

Gary E. Yates (PhD, Dallas Theological Seminary) is professor of Old Testament at Liberty University.
 
or
Not Currently Available for Direct Purchase