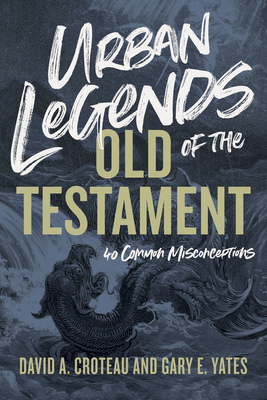 Urban Legends of the Old Testament (Paperback)
40 Common Misconceptions
B&H Academic, 9781433648328, 256pp.
Publication Date: December 1, 2019
* Individual store prices may vary.
Description
Urban Legends of the Old Testament surveys forty of the most commonly misinterpreted passages in the Old Testament. These "urban legends" often arise because interpreters neglect a passage's context, misuse historical background information, or misunderstand the original language of the text.

With a pastoral tone and helpful explanations of where the error originally occurred, authors David A. Croteau  and Gary E. Yates tackle legendary biblical misinterpretations of topics like the origin of evil or the purpose of Mosaic food laws, as well as common misconceptions about dinosaurs, or NASA discovering Joshua's long day.  Urban Legends of the Old Testament will help readers avoid missteps in the interpretation of key biblical texts while modeling interpretative techniques that can also be applied to other Old Testament passages.  
 
About the Author
David A. Croteau is assistant professor of Biblical Studies at Liberty University in Lynchburg, Virginia, where he teaches New Testament and Greek. He holds a Ph.D from Southeastern Baptist Theological Seminary.
Gary Yates es profesor asociado de Antiguo Testamento en la Universidad Liberty.

Gary Yates is associate professor of Old Testament at Liberty University.