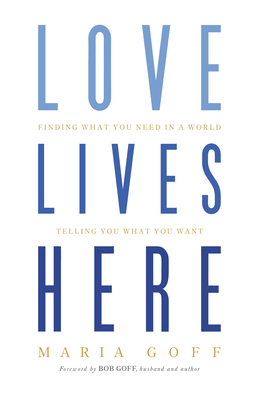 Love Lives Here (Paperback)
Finding What You Need in a World Telling You What You Want
B&H Books, 9781433648915, 256pp.
Publication Date: March 7, 2017
Other Editions of This Title:
Compact Disc (3/7/2017)
* Individual store prices may vary.
Description
This is a book about discovering what we really need.
There are a lot of second-best options, but we weren't made to live a second-best life. Finding what we actually need is different than what we are often offered. There are many books full of opinions, steps and programs. This isn't one of them. This is about craving the things that matter. Things that don't just work, but last.
In a life that may seem to be all fun and games with an endless supply of balloons, author Maria Goff shows how this life is also lived with intentionality, passionate purpose, and a little planning—all of which make a life rich in legacy. But she had to figure out the help she needed first in order to live the beautiful life God wanted for her and wants for us.
Love Lives Here is a collection of stories that include the ways Maria and her husband, Bob, navigated family their way, without clear instructions or a road map. It's about what they learned to make their lives meaningful and whimsical and how they created a space for their family to grow together while they reached outward.
"What a gift to read Love Lives Here and find within it a friend who is as authentic and inviting as Maria Goff. Through her earnest telling of the stories of her life, she provides greater meaning to all our lives. We were thrilled to read this book."
Donald Miller (bestselling author of Blue Like Jazz and Scary Close) with Betsy Miller
"Grace is a contagious force we all crave and Maria contains so much grace it floods you from just a short time with her. May these pages overwhelm you with God's love, and hope that Maria knows so well."
Jennie Allen, Founder of IF: Gathering and Author of Nothing to Prove
About the Author
Maria Goff has made a career out of loving her family, serving her neighbors, and turning houses into homes. She is married to Bob Goff, whom she calls the most helpful and interesting man in the world. They've journeyed to Uganda, Nepal, and Northern Iraq to start schools for marginalized kids. They have three adult kids, who are starting families of their own. She lives in San Diego where she and Bob continue to dream about fun and adventures yet to be had with their growing family.
Praise For Love Lives Here: Finding What You Need in a World Telling You What You Want…
"Love Lives Here is every bit as warm and kind as you'd expect from an author known to most of the world as Sweet Maria. If you love the feeling of gaining a new best friend, read this book. If you'd ever wondered how a life some may consider quiet can incrementally impact the world, read this book."
Shelley Giglio, Chief Strategist, sixstepsrecords and Co-founder, Passion Conferences/Passion City Church

"Grace is a contagious force we all crave and Maria contains so much grace it floods you from just a short time with her. May these pages overwhelm you with God's love, and hope that Maria knows so well."
Jennie Allen, Founder of IF: Gathering and Author of Nothing to Prove

"I've had the chance to visit many places over the years. Finding the purpose behind the places I go always intrigues me. I've been to Maria's home and I know it's purpose. It's simply a place where love lives. You're going to enjoy reading a little more in these pages about how we can each make the places where we live, places where love lives too."
Jeremy Cowart, Photographer and Founder of the Purpose Hotel

"Maria and her words are a gift to every one searching for love, meaning and a place to belong. My life is brighter and my heart is bigger because of what I experienced on these pages. I cried. I smiled. I felt loved. It's an absolutely incredible book!"
Mike Foster, author of People of the Second Chance: A Guide To Bringing Life-Saving Love To The World

"What a gift to read Love Lives Here and find within it a friend who is as authentic and inviting as Maria Goff. Through her earnest telling of the stories of her life, she provides greater meaning to all our lives. We were thrilled to read this book." Donald Miller (bestselling author of Blue Like Jazz and Scary Close) with Betsy Miller

"In a moment in my life when I was desperately looking for direction, God used my friendship with Maria to rekindle in me a long-held vision for hospitality that I'd allowed to be obscured by far less important things. This beautiful book will do that same sacred work for so many people. Maria is an example to me--the kind of mother I aspire to be, the kind of gatherer of people I aspire to be. I'm so very thankful for this lovely book, and the heart and wisdom written on every page."  
Shauna Niequist, NYT bestselling author of Present Over Perfect and Savor

"Through every page, I loved discovering the powerful, mighty woman who's gentle voice and warm heart belies her strength. Maria opens the door of her heart to reveal life is found in rubble, in broken dreams, in oozing hot lava, and--most importantly--love is found in the places we least expect it. With every chapter I felt like welcomed into her home, invited to sit, and pull up a chair to listen to how to love, live, and act towards others. Not only did I walk away wanting a friend like Maria, I wanted to grow up and BE Maria Goff."
Bianca Juarez Olthoff, bestselling author of Play With Fire

"This book is the hug you didn't know you've always needed. Maria's words of hope, purpose and vulnerability ring true in the deepest parts of my soul, inspiring me to live and love better."
Ryan O'Neal, author of Sleeping At Last

"Maria has cultivated a beautiful heart and home where the Lord dwells richly. Love Lives Here shows us how we can experience amazing joy from the inside out. This book will change you and your family."
Lysa TerKeurst, New York Times bestselling author and president of Proverbs 31 Ministries

"Maria Goff is the wise, gracious, and witty mentor you always wanted. With hospitality and vulnerability, she invites you to sit in the coziest chair of her home, warm cup in hand, as she tells you her stories. And in the telling, you hear anew your own stories and God's stories too."
Katherine and Jay Wolf co-authors and co-founders of Hope Heals