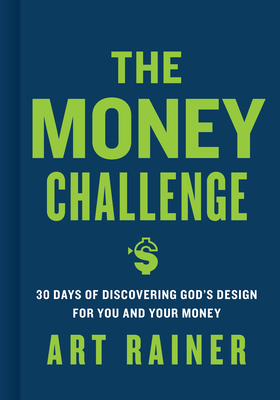 The Money Challenge (Hardcover)
30 Days of Discovering God's Design For You and Your Money
B&H Books, 9781433650307, 160pp.
Publication Date: June 1, 2017
Other Editions of This Title:
Compact Disc (6/1/2017)
* Individual store prices may vary.
Description
This isn't where you thought you would be.
You were meant for more. Your money was meant for more. You and your money are meant for an exciting, adventurous, and satisfying purpose. God designed you, not to be a hoarder, but a conduit through which His generosity flows.
In The Money Challenge, Art Rainer takes you on a journey to financial health. But it is not simply for the sake of financial health. The Money Challenge was written to help experience God's design for you and your finances.
Welcome to the adventure. Welcome to The Money Challenge.
About the Author
Art Rainer serves on the staff of First Baptist Church of West Palm Beach, Florida. He is an MBA graduate of the University of Kentucky, and is currently pursuing a doctorate in business administration. He is married to Sarah.
Praise For The Money Challenge: 30 Days of Discovering God's Design For You and Your Money…
"People have written at length about how to live debt-free or save for retirement, but few have written about the reason for doing these things. Why should you work to become debt-free? Why should you save for retirement? In The Money Challenge, Art Rainer gives clear, biblically-based, practical wisdom about why we should give generously, save wisely, and live appropriately. 
 
The 30 money challenges are opportunities for you to put into practice what you have learned. They are simple, yet valuable steps to help you become a better steward of God's resources."
 
- Jimmy Scroggins, Senior Pastor of Family Church, West Palm Beach, FL


 
"I can't wait for you to read Art's book. It is so good. Art encourages and equips you in the Money Challenge. Not only will you learn a lot, but you will also enjoy his captivating writing style."
 
- Derwin L. Gray, Lead Pastor, Transformation Church, Indian Land, SC


 
Have you ever found yourself waking up from your financial dreams, recognizing your reality is quite different? The Money Challenge creatively teaches and enables you to honor God through your life and finances. Thanks, Art, for tackling this tough topic.
 
- Dave Stone, Pastor, Southeast Christian Church, Louisville, KY


 
Pastors and church leaders: run to this book! I wish I had this book when I was a pastor. It is short, easy to read, and filled with practical steps to lead a congregation toward greater biblical stewardship. I would give a copy to every one in my church. Those who take these steps will have a church filled with joyous givers!
 
- Thom S. Rainer, President and CEO, LifeWay Christian Resources


 
"The Money Challenge is a hopeful, gospel-oriented primer on using finances for the sake of the kingdom. Everyone can benefit from the biblical wisdom here, regardless of financial or social background."
 
 - Russell Moore, President, Southern Baptist Ethics & Religious Liberty Commission


 
"The Money Challenge by Art Rainer is an excellent book on how to be financially responsible. The 3-fold challenge to give generously, save wisely and live appropriately is mapped out  in clear, practical and obtainable steps. God designed us to be generous and wise with our resources. This short and easy to read work will help you get there. I am delighted to commend it to you."
 
- Daniel L. Akin, President, Southeastern Baptist Theological Seminary, Wake Forest, NC