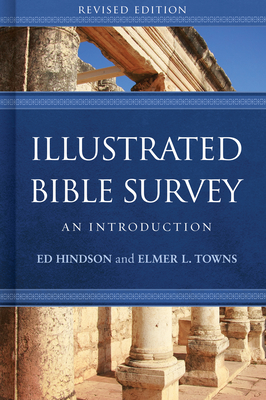 Illustrated Bible Survey
An Introduction
Hardcover

* Individual store prices may vary.
Description
Illustrated Bible Survey introduces all the books of the Bible from Genesis to Revelation. Based on more than thirty years of scholarly research and classroom teaching, editors Ed Hindson, Elmer Towns, and scholars from Liberty University provide a visually engaging, practical, readable, and insightful overview of God's Word and its eternal message.

Ideally suited for undergraduate students, laymen, and pastors, this volume features:• More than 200 full-color photographs, maps, charts, and illustrations• Introductions to each book of the Bible, including background, date, author, outline, and message• Introductory chapters on the themes of the Bible, how we got our Bible, and the people and places of the Bible• Sidebars on the unique features, beneficial insights, and practical applications of biblical truths• Study questions and recommended further reading

 ECPA Gold Medallion award winners Hindson and Towns draw from a lifetime of teaching more than 100,000 students. They represent quality evangelical scholarship, along with a passion to make the Scriptures come to life as they open windows of insight into the biblical text. This exciting survey highlights the key elements of the literature, history, archaeology, and wisdom of the biblical text with an eye on the practical application of its timeless truths, moral principles, and theological insights so desperately needed in today's world.
B&H Academic, 9781433651120, 624pp.
Publication Date: July 1, 2017
About the Author
Ed Hindson es decano del Instituto de Estudios Bíblicos y distinguido profesor de Estudios de Religión en la Universidad Liberty de Lynchburg, Virginia (EE.UU.).

Edward E. Hindson, D. Litt. Et Phil. (South Africa); FIBA (Cambridge), is the distinguished professor of Religion and Biblical Studies at Liberty University in Virginia.

Elmer L. Towns es cofundador de la Universidad Liberty en Lynchburg, Virginia, y decano de la Facultad de Estudios de Religión de dicha institución. Es autor de éxitos editoriales y ha sido galardonado con la medalla de oro de la ECPA al proclamarse como libro del año su obra titulada The Names of the Holy Spirit [Los nombres del Espíritu Santo].

Elmer Towns is cofounder of Liberty University in Lynchburg, Virginia, and dean of its School of Religion. Also a best-selling author, he won an ECPA Gold Medallion Book of the Year Award for The Names of the Holy Spirit.