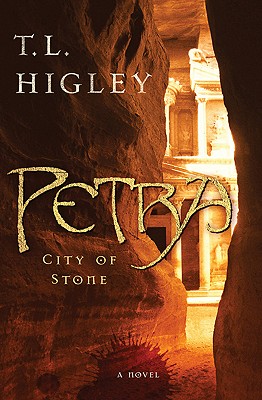 Petra (Paperback)
City of Stone
B&H Books, 9781433668562, 344pp.
Publication Date: September 15, 2010
* Individual store prices may vary.
Description
Petra, the wondrous ancient city carved from the mountains of modern Jordan, is at the height of its glory in this gripping historical novel by T. L. Higley. A young widow, Cassia, and her son, Alexander, have arrived there seeking protection with her late husband's estranged family. But when Cassia discovers the man she married was heir to the throne, the power-hungry Queen Hagiru plots to murder Alexander so that her own child will someday rule. The queen, priestess of the sun-god, Dushrat, calls on demonic powers in her quest, but Cassia is prepared for the fierce spiritual battle to save her son, joining a Roman named Julian and his community of believers in the Jewish Messiah. Together they seek a mighty movement of God far stronger than any dark heart or city made of stone.

Endorsement

"It is impossible to read a T. L. Higley novel and not be transported. Petra is filled with all the intrigue, drama, and flavors of the ancient world that Higley is so well known for. With heart-pounding action and characters that carve their way into your heart, Petra is an adventurist's read, and an escapist's dream. Who needs Indiana Jones?"

Tosca Lee, author of Demon: A Memoir and Havah: The Story of Eve

"Set in early second century AD, this historical Christian novel provides great tie-ins to Scripture and early church history. Malik was a real disciple of Paul, and martyred by Trajan Christians in the arena. The characters are complex and believable . . . The good- versus-evil conflict in this book is especially powerful— Cassia against Hagiru reflects the bigger struggle in the spiritual realm between Jesus and the demons behind the false gods of Petra. Readers will come away with renewed appreciation for the courage of Christians in the face of uncertainty and persecution."

Christian Library Journal
About the Author
T.L. Higley holds a degree in English Literature and has written three previous novels and more than fifty drama productions for church ministry.  She is especially passionate about "breaking down emotional and philosophical barriers that people have put up between themselves and Christ."
or
Not Currently Available for Direct Purchase