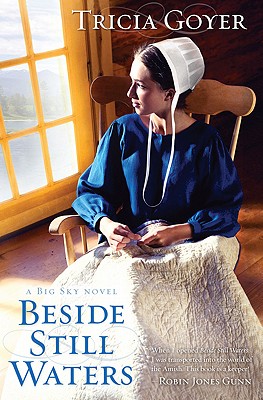 Beside Still Waters
A Big Sky Novel
Paperback

* Individual store prices may vary.
Other Editions of This Title:
Paperback (7/20/2018)
Hardcover, Large Print (2/15/2012)
Description
Raised among the Amish of Indiana, 18-year-old Marianna Sommer plans to get baptized into the church, marry Aaron Zook, and set up life in the only community she has ever known. But when her older brother chooses the world's path following his rumschpringe, and a younger sibling begins showing interest in Englisch ways, Marianna's parents move the family to Montana.
Although she is also in her rumschpringe years and not obligated to move, Marianna makes the journey to dutifully help her mother who is expecting another child. Surprisingly, from strangers on the cross-country train ride to the less rigid stance of the new Montana community, many Englisch influences awaken within Marianna—and even her father—the desire to pursue a deeper kind of joy and love for God.
After an accident, Marianna tells her friend Ben a defining story about the Sommer family, and his response further illumines the active relationship God seeks with His followers. In due time, she learns the move from Indiana was not about losing anything, but finding out who God really is. Despite all the shake-ups, Marianna feels a sweet peace, like still waters, in her soul.

Endorsements:

"A wonderful story about the Amish and the way they live their lives by the writings of the Bible . . . Goyer is a talented author . . . Readers will delight in this."

--RT Book Reviews (4 stars)

"I was transported into the world of the Amish. Tricia's expressive storytelling and vivid descriptions drew me into the heartache and joy of the characters as if they were real people. So compelling."

Robin Jones Gunn, author of the Christy Miller series

"A sweet, tender tale that's sure to please readers. Amish fiction fans will be wanting more from Ms. Goyer!"

Kathleen Fuller, AmishHearts.com

"Only a gifted writer like Tricia Goyer could present such a captivating story about a group of Amish forging a new community in Montana. Tricia writes in such a way that the reader can't wait to turn the page and learn more about main character Marianna's experience. Tricia's talent for connecting our heart to Marianna's plight also connects us to our need for one another. Beside Still Waters draws you in with its genuine characters, and it holds you there with its enduring bonds of love and family."

Suzanne Woods Fisher, best-selling author of the Lancaster County Series

"A moving and gentle story that touched my heart and stirred my soul. I'm recommending Beside Still Waters to all my friends who enjoy Amish fiction."

Marlo Schalesky, author of Christy-award winning Beyond the Night and Shades of Morning

"Goyer's story is ultimately a journey toward faith . . . The described scenery is luscious, the enclosed recipes are fun, and the questions about faith and lifestyle choice are very real."

TitleTrakk.com
"A sweet, entertaining tale."

Home with Purpose
B&H Books, 9781433668685, 320pp.
Publication Date: April 15, 2011
About the Author
Tricia Goyer is an acclaimed and prolific writer, publishing hundreds of articles in national magazines including Today's Christian Woman and Focus on the Family while authoring more than twenty-five fiction and nonfiction books combined. Among those are 3:16 Teen Edition with Max Lucado and the American Christian Fiction Writers' Book of the Year Award winners Night Song and Dawn of a Thousand Nights. She has also written books on marriage and parenting and contributed notes to the Women of Faith Study Bible. Tricia lives with her husband and four children in Arkansas.
or
Not Currently Available for Direct Purchase