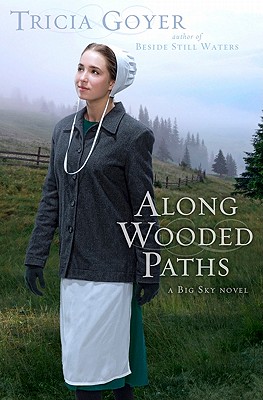 Along Wooded Paths
A Big Sky Novel
Paperback

* Individual store prices may vary.
Other Editions of This Title:
Paperback (7/20/2018)
Hardcover, Large Print (3/21/2012)
Description
All she wanted was a simple Amish life . . . But now Marianna Sommer finds herself depending on Englisch neighbors. Although proud of living apart from the world, she and her newly relocated Amish family have discovered that life in the remote mountains of Montana requires working together.

As Marianna begins helping those different from herself—and receiving their help—her heart contemplates two directions. She's torn between the Amish man from Indiana whom she has long planned on marrying and the friendly Englischer who models a closer walk with God than she's ever seen before.

Who should have young Marianna's heart? What is God asking her to sacrifice? Her traditions? Her community? The answer is found along the wooded paths.

Acclaim for Tricia Goyer's Big Sky Series

"A wonderful story about the Amish and the way they live their lives by the writings of the Bible. Readers will delight in this."

RT Book Reviews

"A sweet, tender tale that's sure to please readers. Amish fiction fans will be wanting more from Ms. Goyer!"

AmishHearts.com

"A captivating story . . . the reader can't wait to turn the page."

Suzanne Woods Fisher, best-selling author, Lancaster County Series

"A sweet, tender story about God's gentle workings in the hearts of His own. Tricia Goyer has a true talent for creating believable characters readers can identify and empathize with. Anyone who enjoys Amish fiction will appreciate this moving tale."

Sally Laity, author of Remnant of Forgiveness

"I was pulled into Tricia Goyer's Along Wooded Paths from the first page! A devastating past, a heart-breaking choice, this story has it all. Endearing, lovely in every way. If you love heart-warming Amish fiction you can't go wrong here."

Traci DePree, author of the Lake Emily series and Into the Wilderness
B&H Books, 9781433668692, 320pp.
Publication Date: October 1, 2011
About the Author
Tricia Goyer is an acclaimed and prolific writer, publishing hundreds of articles in national magazines including Today's Christian Woman and Focus on the Family while authoring more than twenty-five fiction and nonfiction books combined. Among those are 3:16 Teen Edition with Max Lucado and the American Christian Fiction Writers' Book of the Year Award winners Night Song and Dawn of a Thousand Nights. She has also written books on marriage and parenting and contributed notes to the Women of Faith Study Bible. Tricia lives with her husband and four children in Arkansas.
In Along Wooded Paths, Aaron Zook, the man Marianna planned on marrying, comes to Montana. How did Aaron being in Montana change Marianna's opinion of him?
The lives of West Kootenai citizens connect through the general store. Where do you find your community? How is it similar to West Kootenai? Different?
Why do you think Mem invited Aaron to visit West Kootenai without letting Dat or Marianna know?
What things do you appreciate most about Aaron? Do you think Aaron's character is typical for an Amish young man?
How did Marianna's opinion of Aaron change through the book? What brought on these changes?
Ben Stone battles between his love for Marianna and his realization that if she returned his love it would change her life. Have you ever had to hold back your feelings of love to protect someone else?
What Amish traditions or customs did you learn about through the pages of this novel?
Marianna reaches out to a single mom named Jenny. What are the differences between Marianna and Jenny? What are their similarities?
Marianna found two verses that spoke to her:
a. Psalm 25:5 "Guide me in your truth and teach me, for you are God my
Savior, and my hope is in you all day long."
b. Psalm 145:18 "The LORD is near to all who call on him, to all who call on
him in truth."
In what ways has God's truth changed her outlook on life?
Ben wrote a song with Marianna in mind. Do you think Marianna would have made a different decision if she'd heard the song?
Carrie, Ben's old flame, shows up in his life again. Has connecting with his old life—his old friends—changed Ben in any way?
Ben has a gift with music. Aaron is talented in art. In what ways do their artistic gifts impact Marianna?
The prayer meeting Marianna attended changed her outlook on God and prayer. What was one event in which your outlook was changed about God?
The Amish don't believe in playing musical instruments. What traditions do you have that others may not understand?
Even though Marianna continued writing circle letters, she left out much of what was happening in her home, mind, and heart. What does this say about how Marianna feels about her community, her friends, and her feelings?
When Marianna hears of Naomi's pregnancy, and Levi's plea for help, she decides to return. Do you agree with Levi's decision to return to being Amish? Why or why not?
At the end of the book Marianna chooses who she will marry. Do you think she made the right choice? What emotions do you think are behind Marianna's choice?
or
Not Currently Available for Direct Purchase