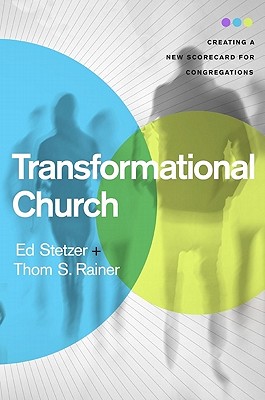 Transformational Church (Hardcover)
Creating a New Scorecard for Congregations
B&H Books, 9781433669309, 256pp.
Publication Date: June 1, 2010
* Individual store prices may vary.
Description
How are we doing? The church, that is. And how are we doing it? Congregations have long measured success by "bodies, budget, and buildings"--a certain record of attendance, the offering plate, and square footage. But the scorecard can't stop there. When it does, the deeper emphasis on accountability, discipleship, and spiritual maturity is lost. Ignoring those details, we see fewer lives transformed, Christian influence wane, and churches thin out--a situation that is all too familiar across North America today.

It is time to take heart and rework the scorecard.

According to Ed Stetzer and Thom S. Rainer, the authors of Transformational Church, "Too often we've highlighted the negative realities of the declining American church but missed the opportunity to magnify the God of hope and transformation."

Based on the most comprehensive study of its kind, including a survey of more than 7,000 churches and hundreds of on-site interviews with pastors, Transformational Church takes us to the thriving congregations where truly changing lives is the norm.

Stetzer and Rainer clearly confirm the importance of disciple making for all through active biblical engagement and prayerful dependence on God alongside of ever-increasing, intentional participation in mission and ministry activities. As the church engages these issues, the world will see the change:

* More people following Christ
* More believers growing in their faith
* More churches making an impact on their communities

The transformation starts now.
About the Author
Ed Stetzer is vice president of research and ministry development at LifeWay Christian Resources in Nashville, Tennessee. He holds two masters and two doctoral degrees and has written dozens of articles and acclaimed books including Planting Missional Churches, Breaking the Missional Code, Comeback Churches, and Lost and Found. Ed and his wife, Donna, have three daughters and live in Nashville, Tennessee.            
Thom S. Rainer is the president and CEO of LifeWay Christian Resources, one of the largest Christian resource companies in the world. Also a respected pastor and researcher, he has written more than twenty books and coauthored the No. 1 best seller Simple Church. Rainer and his wife, Nellie Jo, have three grown sons, several grandchildren, and live in Nashville, Tennessee.
 
Thom S. Rainer es el presidente y director ejecutivo de LifeWay Christian Resources, una de las mayores editoriales cristianas del mundo. También es reconocido como pastor e investigador, ha escrito más de veinte libros y es coautor del reconocido best seller Iglesia simple. Rainer y su esposa, Nellie Jo, tienen tres hijos adultos, varios nietos y viven en Nashville, Tennessee, EE.UU.