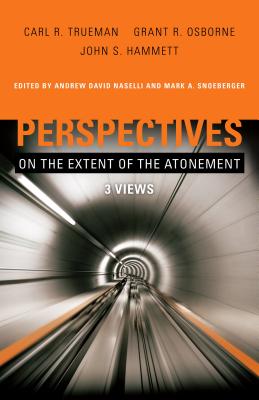 Perspectives on the Extent of the Atonement
3 Views
Paperback

* Individual store prices may vary.
Description
Perspectives on the Extent of the Atonement presents a point-counterpoint exchange concerning God's intention in sending Christ to die on the cross. All three contributors recognize a substitutionary element in the atoning work of Christ, but disagree over the nature and objects of that substitution.

Carl Trueman (Westminster Theological Seminary) argues that Christ's atoning work secured the redemption of his elect alone. While infinite in value, Christ's death was intended for and applied strictly to those whom the Father had elected unconditionally in eternity past.

John Hammett (Southeastern Baptist Theological Seminary) argues that Christ's atoning work had multiple intentions. Of these intentions two rise to the fore: (1) the intention to accomplish atonement for God's elect and (2) the intention to provide atonement for all mankind.

Grant Osborne (Trinity Evangelical Divinity School) argues that Christ's atoning work provided atonement generally for all mankind. The application of that atoning work is conditioned, however, on each person's willingness to receive it.
Praise For Perspectives on the Extent of the Atonement: 3 Views…
"At one theological institution where I studied, we spoke of a certain style of debate: thesis, followed by antithesis, followed by personal abuse. This book does not adopt that style. The first obligation in serious theological polemics must be understanding both your own position and your opponents' positions as thoroughly as possible, the more so if the topic is sensitive. That is the first strength of this book. The second is that it shows how, in debates over the extent (or intent!) of the atonement, the principal options are not two, but three, and how this third position, often connected with Amyraut, turns on the difficult notion of God having more than one will. In one sense this book breaks no new ground; it does not intend to. But I know no book that handles this subject with more scrupulous attention to fairness and accuracy in debate."
 
D. A. Carson
Research Professor of New Testament, Trinity Evangelical Divinity School; President, The Gospel Coalition
B&H Academic, 9781433669712, 256pp.
Publication Date: February 1, 2015
About the Author
John S. Hammett (Ph.D., The Southern Baptist Theological Seminary) is professor of Systematic Theology at Southeastern Baptist Theological Seminary in Wake Forest, North Carolina.
or
Not Currently Available for Direct Purchase