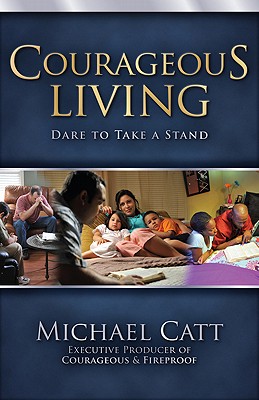 Courageous Living (Paperback)
Dare to Take a Stand
B&H Books, 9781433671210, 176pp.
Publication Date: September 1, 2011
Other Editions of This Title:
Compact Disc (11/1/2011)
Paperback, Large Print (9/21/2011)
* Individual store prices may vary.
Description
In the new film COURAGEOUS (from the makers of Fireproof), four police officers are confident and focused when it comes to facing danger on the job. But leading their families at home in a God-honoring way? That takes courage. 

Because it is important to take a faithful, fearless stand in so many areas of life, pastor and COURAGEOUS executive producer Michael Catt offers Courageous Living as a closer look at biblical themes and characters that inspired the greatly anticipated movie. 

Catt brings fresh insight to "stories of people in the Bible who displayed great courage when it would have been easier to play it safe... (who) challenge me to keep moving forward. They demand that I examine my priorities and deal with anything that brings fear to my heart." 

Readers will catch a new wind of bravery in the bold accounts of Abraham ("The Courage to Get Going"), Nehemiah ("The Courage to Face Criticism"), and Ruth ("The Courage to Face an Uncertain Future"). There are also growth opportunities in the stirring stories of Moses, Elijah, Joshua, Daniel, Gideon, Nehemiah, Stephen, and Paul and Timothy.
About the Author
Michael Catt has served as senior pastor of Sherwood Baptist Church in Albany, Georgia, since 1989 and is executive producer of the popular films Flywheel, Facing the Giants, Fireproof, and Courageous that originated from the congregation. He also authored Fireproof Your Life and founded the ReFRESH revival conference. Michael and his wife, Terri, have two children.