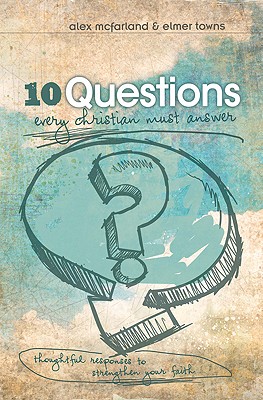 10 Questions Every Christian Must Answer (Paperback)
Thoughtful Responses to Strengthen Your Faith
B&H Academic, 9781433671814, 224pp.
Publication Date: May 1, 2011
* Individual store prices may vary.
Description
Would a loving God really send people to hell? Can we really trust what the Bible says? Is Jesus really the only way to heaven? 

Becoming a Christian does not mean that all of the questions about faith are instantly answered. In fact, more questions are likely to follow. However, not having knowledge about certain issues can dampen your faith and rob you of the joy that comes from confidently sharing it with others.

Ten Questions Every Christian Must Answer provides responses to the toughest conversations regarding one's inward faith as well as the outward expression of it and is relevant to new believers and longtime Christ followers alike. Led by respected scholars Elmer Towns and Alex McFarland, readers can be sure this content is backed by sharp minds, deep thinking, and the unchanging Word of God.
About the Author
Alex McFarland is a speaker, author, and advocate for Christian apologetics and host of the radio program Exploring the Word.
Elmer L. Towns es cofundador de la Universidad Liberty en Lynchburg, Virginia, y decano de la Facultad de Estudios de Religión de dicha institución. Es autor de éxitos editoriales y ha sido galardonado con la medalla de oro de la ECPA al proclamarse como libro del año su obra titulada The Names of the Holy Spirit [Los nombres del Espíritu Santo].

Elmer Towns is cofounder of Liberty University in Lynchburg, Virginia, and dean of its School of Religion. Also a best-selling author, he won an ECPA Gold Medallion Book of the Year Award for The Names of the Holy Spirit.
or
Not Currently Available for Direct Purchase