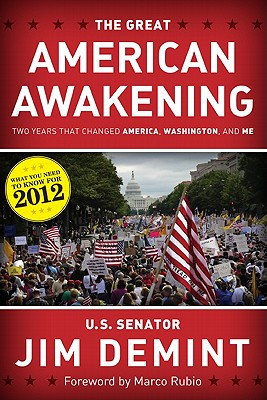 The Great American Awakening: Two Years That Changed America, Washington, and Me (Paperback)
Two Years That Changed America, Washington, and Me
B&H Publishing Group, 9781433672798, 220pp.
Publication Date: July 4, 2011
* Individual store prices may vary.
or
Not Currently Available for Direct Purchase
Description
Following his New York Times best seller, Saving Freedom, U.S. Senator Jim DeMint's The Great American Awakening chronicles two tumultuous years from the presidential election of 2008 through the mid-term elections of 2010. Untold insider views of the controversial stimulus bill passage, corporate takeovers, and lesser-known executive actions that epitomize political paybacks and moral decay will further motivate DeMint's fellow citizens to reclaim their government and country in 2012.
Just as fascinating, the South Carolina official talks openly about his seized upon high profile moments--from that "Waterloo" comment regarding health care reform to becoming known as "Senator Tea Party." He also addresses close-to-home disappointments such as the infidelity of Christian friends like Governor Mark Sanford and Senator John Ensign, and shares personal spiritual insights that came from being part of such public battles. But more than anything,
The Great American Awakening
champions the American people who now feel a powerful stirring in their souls to take on Washington and realign politics in this nation. DeMint tracks grass-roots developments, and new movements like the Freedom Congress, fully expecting a fundamental sea change for the better to happen soon.
Acclaim for The Great American Awakening
"I have Senator DeMint on my show often because Americans know he'll tell the truth about what's wrong in Washington. His latest book is a riveting account about the fight for fiscal sanity in Congress. It's essential reading for anyone who wants to understand why so many Americans clued in and got involved with the Tea Party Movement in the last election. Senator DeMint was a huge part of this and I only hope he is as involved in the 2012 race for the White House as he was this past election."
Sean Hannity
, host of the nationally syndicated
Sean Hannity Radio
show and "Hannity" on Fox News.
About the Author
Jim DeMint was elected senator of South Carolina in 2004 and then chairman of the Senate Steering Committee in 2006. For standing up against wasteful spending in Congress and saving Americans about $17 billion, Wall Street Journal editor Steve Moore called DeMint the "taxpayers' greatest ally." DeMint was also ranked as the Senate's most conservative member by National Journal and as the # 1 senator voting for responsible tax and spending policies by the National Taxpayers Union. The senator and his wife, Debbie, have four grown children, are doting new grandparents, and live in Greenville, South Carolina.
Advertisement