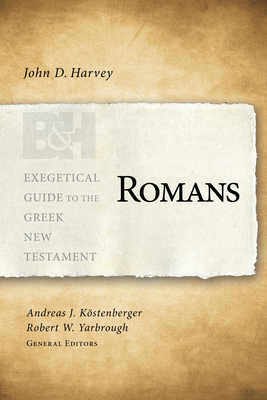 Romans (Exegetical Guide to the Greek New Testament)
Paperback

* Individual store prices may vary.
Description
The Exegetical Guide to the Greek New Testament (EGGNT) closes the gap between the Greek text and the available lexical and grammatical tools, providing all the necessary information for greater understanding of the text. The series makes interpreting any given New Testament book easier, especially for those who are hard pressed for time but want to preach or teach with accuracy and authority.

Each volume begins with a brief introduction to the particular New Testament book, a basic outline, and a list of recommended commentaries. The body is devoted to paragraph-by-paragraph exegesis of the Greek text and includes homiletical helps and suggestions for further study. A comprehensive exegetical outline of the New Testament book completes each EGGNT volume.
Praise For Romans (Exegetical Guide to the Greek New Testament)…
"This volume, by a trustworthy and immensely careful scholar, is an essential addition to the desk of any serious biblical scholar or student."
 —Ann Jervis, professor of New Testament and advanced degree director, Wycliffe College, and senior fellow, Massey College

 
"The EGGNT series is a must-have addition to the library of pastors, faculty, and students. These volumes present the reader with excellent exegesis of each particular New Testament book. The work on Romans is provided by John D. Harvey, whose highly competent exegetical skills are well-known in evangelical circles. Harvey's analysis of the Greek text of Romans is superb, contemporary, and clear. He discusses the sacred text word by word, phrase by phrase, and sentence by sentence, producing an illuminating outline of the Greek passage under consideration. The exegesis is all there at the fingertips of the reader: vocabulary, syntax, grammatical outline, as well as further resources for advanced study on that particular passage in Romans. Add to this a very practical section on homiletics in terms of possible outlines for sermons, and the reader has at his or her disposal an invaluable commentary. At the same time, Harvey's objective exegesis grants readers the opportunity to develop their own respective theological messages and applications to today's world. John Harvey's work is a masterful study of Romans that will endear itself to readers for years to come!"
 —C. Marvin Pate, chair of the department of Christian theology and the Elma Cobb Professor of Christian Theology, Ouachita Baptist University
 
  
"In this volume on the Greek text of Romans, John Harvey provides an excellent guide for anyone wishing to work their way through Paul's epic epistle.  Harvey strikes just the right balance between giving readers insights and information on Greek forms, grammar, and syntax and leaving ample space for readers to consider interpretive options for themselves. For students ready to take the next step in Greek exegesis, pastors who want to make good use of the Greek text for sermon preparation, and scholars needing a compendium of the major issues in the Greek text of Romans, this book is a must-have." 
—Brian Vickers, professor of New Testament interpretation and biblical theology, The Southern Baptist Theological Seminary
 
B&H Academic, 9781433676130, 464pp.
Publication Date: May 1, 2017
About the Author
John D. Harvey is Dean and Professor of New Testament at Columbia Biblical Seminary of Columbia International University in Columbia, SC.