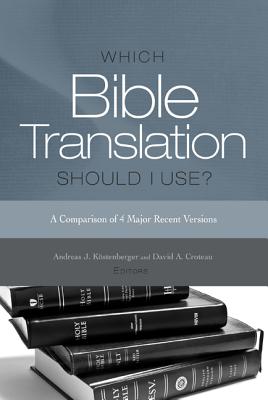 Which Bible Translation Should I Use? (Paperback)
A Comparison of 4 Major Recent Versions
B&H Academic, 9781433676468, 224pp.
Publication Date: October 1, 2012
* Individual store prices may vary.
Description
One of the most frequently asked questions related to the Bible is, "Which Bible translation should I use?" People often wonder what is the all-around best English Bible translation available. In this book, Douglas Moo, Wayne Grudem, Ray Clendenen, and Philip Comfort make a case for the Bible translation he represents: the NIV 2011 (New International Version), the ESV (English Standard Version), the HCSB (Holman Christian Standard Bible), and the NLT (New Living Translation) respectively.

In each case, the contributors explain the translation philosophy under- lying these major recent versions. They also compare and contrast how specific passages are translated in their version and other translations.

Which Bible Translation Should I Use? is ideal for anyone who is interested in the Bible and wants to know how the major recent English translations compare. After you've read this book, you will be able to answer the title question with confidence. You will also learn many other interesting details about specific passages in the Bible from these top experts.


About the Author
Andreas J. Köstenberger (Ph.D., Trinity Evangelical Divinity School) is senior research professor of New Testament and Biblical Theology at Southeastern Baptist Theological Seminary.
David A. Croteau is assistant professor of Biblical Studies at Liberty University in Lynchburg, Virginia, where he teaches New Testament and Greek. He holds a Ph.D from Southeastern Baptist Theological Seminary.