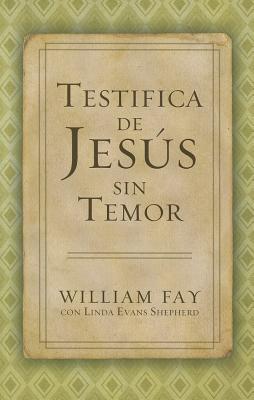 Testifica de Jesus Sin Temor (Paperback)
B&H Espanol, 9781433676802, 208pp.
Publication Date: October 1, 2012
* Individual store prices may vary.
or
Not Currently Available for Direct Purchase
Description
En los ultimos anos, el libro Testifica de Jesus sin temor y su creciente familia de productos asociados desato un movimiento de testimonio cristiano que sigue cobrando impulso. Comenzo con el asombroso relato de William Fay, quien fuera un hombre de negocios motivado por el dinero, vinculado con la mafia y dirigente de un burdel, hasta que llego una redada policial. Ante la amenaza de una condena que lo privaria de su libertad, Fay busco su redencion en Jesucristo y desde entonces ha testificado de El ante los demas. Testifica de Jesus sin temor comparte las apasionadas y eficaces instrucciones de Fay sobre como testificar del amor de Cristo ante cualquier persona, sin sentirse intimidado por ninguna de las dos perspectivas de la conversacion. Este movimiento misionero, caracterizado por su audacia y alegria, sigue progresando sin temor. In recent years, the Share Jesus Without Fear book and its growing family of related products have sparked a faith-sharing movement that continues to gain momentum. It began with the jaw-dropping story of William Fay, once a money-driven businessman with Mafia ties who ran a house of prostitution until it was raided by police. Facing the threat of jail time, Fay turned to Jesus Christ for redemption and ever since has been turning others to Him as well. Share Jesus Without Fear relays Fay's passionate, effective instructions on how to share the love of Christ with anyone -- without feeling intimidated on either side of the conversation. Bold and joyful, the outreach movement continues without fear.

About the Author
William Fay obtuvo un diploma en liderazgo en el Seminario de Denver y se ha dedicado apasionadamente al evangelismo. Fay es capellan de la Agencia Federal Antinarcoticos Estadounidense y anfitrion de un programa radial distribuido internacionalmente. Se han impreso mas de cinco millones de ejemplares de su folleto titulado "How to Share Your Faith Without an Argument" (Como testificar de tu fe sin discutir). Viaja frecuentemente alrededor del mundo para compartir del mensaje de Testifica de Jesus sin temor y vive con su familia en Fort Myers, Florida. William Fay graduated from Denver Seminary with a degree in leadership and has taken up the mantle of an evangelist. Fay is a chaplain with the Federal Drug Enforcement Agency, host of the internationally syndicated radio show, "Let's Go," and his booklet "How to Share Your Faith Without an Argument" has more than five million copies in print. He travels frequently around the globe sharing the Share Jesus Without Fear message and resides with his family in Ft. Myers, Florida.
Advertisement