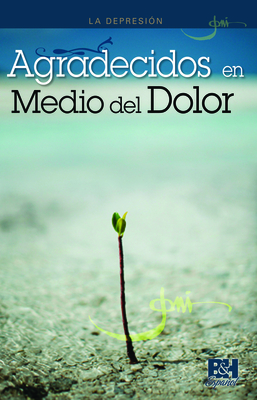 La Depresion: Agradecidos En Medio del Dolor (Paperback)
Agradecidos En Medio del Dolor
B&H Espanol, 9781433677632, 14pp.
Publication Date: November 1, 2012
* Individual store prices may vary.
or
Not Currently Available for Direct Purchase
Description
Joni Eareckson Tada
, autora de best-sellers, ha escrito un juego de seis cuadernillos tematicos que forman parte de la coleccion Temas de Fe en curso. Joni se ha familiarizado bien con la adversidad. A los 17 anos de edad, un accidente durante un salto de clavado la dejo paralitica en las cuatro extremidades. Sin embargo, su fe ante esas circunstancias desencadeno un ministerio a escala mundial. En estos cuadernillos, Joni escribe sobre el sufrimiento, la soberania de Dios, la oracion, la oracion no contestada, el enojo y la depresion. Cada cuadernillo de 14 paginas a todo color tiene abundantes ilustraciones, incluye un titulo facil de entender sobre el contenido y sirve como herramienta de referencia practica para uso personal o en el campo misionero. Tambien hay disponibles docenas de otros cuadernillos de esta coleccion, los cuales cubren una amplia gama de temas. (Se vende en paquete de 10).

Best-selling author Joni Eareckson Tada has written a set of six topical booklets that are part of the ongoing Themes of Faith collection. Well acquainted with hardship, a diving accident at age 17 left Joni quadriplegic, yet her faith in the face of it sparked a worldwide ministry. Tada writes here about suffering, God's sovereignty, prayer, unanswered prayer, anger, and depression. Each 14-page, full-color booklet is richly illustrated, carries a self-explanatory title regarding the content, and serves as an always-ready reference tool for personal use or on the mission field. Dozens of other Themes of Faith booklets are also available covering a broad range of issues.
About the Author
Joni Eareckson Tada es fundadora y directora ejecutiva del Centro Internacional para Discapacitados "Joni and Friends" (Joni y sus amigos). Tras un accidente durante un salto de clavado a los 17 anos, que la dejo paralitica en las cuatro extremidades, Joni se reencamino en la vida con nuevas aptitudes y una renovada determinacion para ayudar a otros en situaciones similares. Ha escrito casi cincuenta libros y es reconocida como autora de exitos de libreria. Joni Eareckson Tada is founder and chief executive officer of Joni and Friends International Disability Center. Following a diving accident at age 17 that left her a quadriplegic, she emerged with new skills and a fresh determination to help others in similar situations. An award-winning best-selling author, Joni has written nearly fifty books.
Advertisement