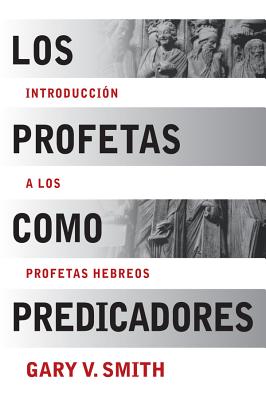 Los Profetas Como Predicadores: Introduccion a Los Profetas Hebreos (Paperback)
Introduccion a Los Profetas Hebreos
B&H Espanol, 9781433677779, 384pp.
Publication Date: April 1, 2012
* Individual store prices may vary.
or
Not Currently Available for Direct Purchase
Description
Casi toda introduccion a los libros profeticos de la Biblia se enfoca en la forma en que se componen. Sin embargo, Gary V. Smith aplica la teoria de la comunicacion y la sociologia del conocimiento a fin de analizar simplemente como la predicacion de los profetas del Antiguo Testamento cambio la vida de individuos, influyo en los lideres mas poderosos del mundo y logro el arrepentimiento de naciones completas. Los capitulos individuales sobre Amos, Oseas, Jonas, Miqueas, Isaias, Nahum, Sofonias, Habacuc, Jeremias, Joel, Abdias, Ezequiel, Daniel, Hageo, Zacarias y Malaquias tambien incluyen preguntas para conducir al dialogo sobre sus implicancias teologicas y sociales. Asimismo, el libro Los profetas como predicadores se caracteriza por diez ilustraciones, un glosario de terminos, bibliografia e indices de temas y nombres.

Although most introductions to the prophetic books of the Bible focus on their composition, Gary V. Smith uses communication theory and the sociology of knowledge to analyze just how the preaching of the Old Testament prophets changed individual lives, influenced the world's greatest leaders, and caused entire nations to repent. Individual chapters on Amos, Hosea, Jonah, Micah, Isaiah, Nahum, Zephaniah, Habakkuk, Jeremiah, Joel, Obadiah, Ezekiel, Daniel, Haggai, Zechariah, and Malachi also include discussion questions concerning theological and social implications. The Prophets as Preachers also features ten illustrations, glossary of terms, bibliography, and indices of subjects and names.
About the Author
Gary V. Smith se ha desempen ado como profesor en el Seminario Teologico Bautista del Oeste Medio y en la Universidad Union. Entre sus otras obras publicadas se cuentan dos volumenes sobre el libro de Isaias en la serie New American Commentary de B&H Publishing Group. English Translation: Gary V. Smith has taught at Midwestern Baptist Theological Seminary and Union University. Among his other published works are the two volumes on the book of Isaiah in The New American Commentary series.
Advertisement