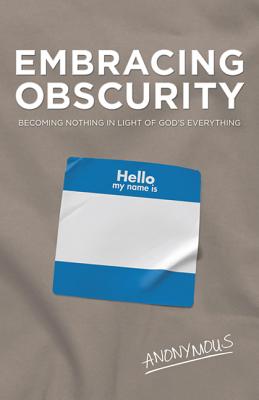 Embracing Obscurity (Paperback)
Becoming Nothing in Light of God's Everything
B&H Books, 9781433677816, 192pp.
Publication Date: October 1, 2012
* Individual store prices may vary.
Description
No matter how famous someone might be, the fact remains; most of the other seven billion people on Earth wouldn't know him or her from the next person. Add this reality to one's shrinking recognizability among the multiple billions down through history, and the worldly emphasis on standing out really falls flat; we're all in this obscurity thing together.

Ironically, the trouble with me and you and the rest of humanity is not a lack of self-confidence but that we have far too much self-importance. To live and die unnoticed would seem a grave injustice to many. It's all too easy to think we're somebody if our portfolio is strong, there are a few letters after our name, or we're well-known at work, church, or school.

As pride creeps in, we are tempted to want more: more recognition, more admiration, more influence, more, more, more. Few have ever given thought to wanting less. That's why we need Embracing Obscurity.

Putting the premise into immediate action, an established Christian author electing to remain anonymous writes about living and dying in simplicity, contending that true success, as modeled by Jesus, starts with humility, service, sacrifice, and surrender. Such a life involves mystery and banks on the hope that today is just a dress rehearsal for eternity.

When we stop imitating the world and instead choose to embrace obscurity, real life -- chock full of significance, purpose, and renewed passion -- begins.


About the Author
Anoymous is an experienced author who shall remain anonymous given the topic of the book at hand.

Praise For Embracing Obscurity: Becoming Nothing in Light of God's Everything…
We live in a celebrity-obsessed culture. And let's be real, the church isn't all that different. In fact, in the church we often make the case that influence is something to be pursued; the greater our influence, the greater our impact for Christ. Yet, what does it mean to make much of ourselves in order to make much of Him, instead of trusting Him to make much of Himself—despite us. 
Embracing Obscurity
 is incredibly powerful as it reminds us to question whether we are building our own self-importance or finding it in Christ. Are we willing to be obscure so that Christ is exalted? How can we say no?
—Jen Hatmaker, author of Seven: An Experimental Mutiny Against Excess

Our lives can exalt only one person. This book challenged me to consider who, for me, that one person was. Am I willing to embrace obscurity for Jesus? If only one person can receive attention in my life, is it Him? This book helped me marvel again at the Christ who embraced obscurity for us. His humiliation led to our exaltation. When we understand that, how can we not say, "He must increase, but I must decrease!"
—JD Greear, Lead Pastor, the Summit Church Twitter: @jdgreear @summitrdu

In an age where value is often determined by the number of Twitter followers and Facebook "likes" a person has, the idea of embracing obscurity seems about as outdated as an old rotary dial phone. Not to mention, social networking has made it possible to broadcast the details of our day down to what we had for breakfast and the playlist of songs we listened to on our lunch break. It's all beginning to be a bit too much. I applaud whoever wrote this book for reminding us all of our ultimate purpose: To make much of God and less of ourselves. This book is an absolute treasure that should be on every Christian's nightstand. Permanently.
—Vicki Courtney, a fellow author, who would have rather gone unnamed to embrace obscurity
Embracing Obscurity may change the way you view the authentic Christian life. It pierced my heart with the simple truth that I do not suffer from a lack of self-confidence but from an abundance of self-importance. Can I be content with relative obscurity so that Christ may be made more famous?! A haunting question to be sure. A worthwhile question no doubt. So, be prepared to be made uncomfortable in a good way.
—Daniel L. Akin, president of Southeastern Baptist Theological Seminary

It is a paradoxical sign of the times that a book advocating the virtues of anonymity yet requires named endorsements in order to be properly marketable. Thus, it is with some sense of irony, if not incoherence, that I commend this work. We live in an age where self-promotion is the norm and where even many sincere Christians have bought into this culture with enthusiasm. Yet the message of this important book is that such self promotion is not simply a neutral cultural tool but is in fact antithetical to biblical Christianity. This is a timely call to modesty, privacy, and humility. It is painful but necessary reading that is likely to be hated, disparaged, or simply ignored by the very people who most need to heed its message.
—Carl R. Trueman, Westminster Theological Seminary
Many of us are drunk right now, intoxicated with a desire to be respected, honored, and widely known. And yet this intoxication derails our ability to give God the respect, honor, and renown that He so rightly deserves. For this reason, the author of Embracing Obscurity argues that we must renounce his desire to build our own kingdom and, in so doing, we will find unspeakable joy and freedom in Christ. If you are fighting the temptation to build your own kingdom—like I am—you need to buy this book and take its thesis to heart.
—Bruce Riley Ashford, Dean of The College Research Fellow, Southeastern Baptist Theological Seminary
Embracing Obscurity is a tremendous challenge to the greatest hindrance to fulfilling the Great Commission, namely PLEASURE. I must get this book into the hands of all the people I lead.
—Johnny Hunt, pastor, First Baptist Church, Woodstock, Georgia
Embracing Obscurity challenges us to cultivate a joyful sense of contentment in the truth that the One who matters most already knows you. Being known by Him is enough.
—Trevin Wax, managing editor of The Gospel Project, author of Counterfeit Gospels and Holy Subversion
If American evangelicalism is like a football team, with different positions and players, Embracing Obscurity is the 300-pound linebacker lurking over the middle. It hits hard. There were sentences in this book that stopped me cold. Conclusions from its provocative critique will vary, but the book is prophetic and needed. I'm not anonymous in recommending this text, but I'm definitely stirred to embrace the gospel that knocks us down like Saul, frees us from sin and death, and turns vainglorious somebodies into glorious nobodies.
—Owen Strachan, Assistant Professor of Christian Theology and Church History; coauthor, Essential Edwards Collection

Pride is the plague of the human heart, and like most people, I long to be known. I long to enter into the kingdom of heaven riding the white horse, crown on my head, sword in my hand. I want to be the self-sufficient Christian. The gospel call, though, is a call to enter the kingdom on my knees. It is because of this that I am deeply grateful for the unknown author who not only embraced obscurity, but who lovingly calls us to do the same in this book. Please reed, weep, and walk this way.
—Micah Fries, pastor, Frederick Boulevard
A man who won't put his name on his book greatly authenticates his thesis "All for His glory, none of mine." Only the cross has the wondrous attraction. Not me, not my church, not my glory. America's Christians and their leaders need no message more than this, "He must increase; I must decrease. Completely."
—John Bisagno
or
Not Currently Available for Direct Purchase