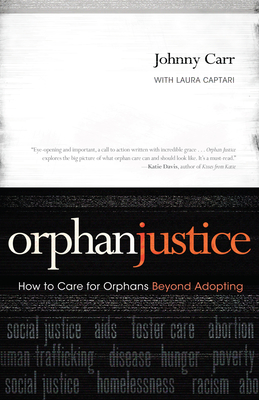 Orphan Justice (Paperback)
How to Care for Orphans Beyond Adopting
B&H Books, 9781433677984, 224pp.
Publication Date: March 1, 2013
* Individual store prices may vary.
Description
Christians are clearly called to care for orphans, a group so close to the heart of Jesus. In reality, most of the 153 million orphaned and vulnerable children in the world do not need to be adopted, and not everyone needs to become an adoptive parent. However, there are other very important ways to help beyond adoption.

Indeed, caring for orphaned and vulnerable children requires us to care about related issues from child trafficking and HIV/AIDS to racism and poverty. Too often, we only discuss or theologize the issues, relegating the responsibility to governments.
No one can do everything, but everyone can do something. Based on his own personal journey toward pure religion, Johnny Carr moves readers from talking about global orphan care to actually doing something about it in Orphan Justice. Combining biblical truth with the latest research, this inspiring book:
 
• investigates the orphan care and adoption movement in the U.S. today
• examines new data on the needs of orphaned and vulnerable children
• connects "liberal issues" together as critical aspects or orphan care
• discovers the role of the church worldwide in meeting these needs
• develops a tangible, sustainable action plan using worldwide partnerships
• fleshes out the why, what, and how of global orphan care
• offers practical steps to getting involved and making a difference



About the Author
Johnny Carr is national director of Church Partnerships at Bethany Christian Services, the nation's largest adoption and orphan care agency. He and his wife live with their five children (the three youngest are adopted) in Pittsburgh, Pennsylvania. 
Laura Captari is a freelance writer and a licensed professional counselor in training. She also serves as director of Professional and Public Relations at the American Association of Christian Counselors. She lives with her husband in Lynchburg, Virginia.
Praise For Orphan Justice: How to Care for Orphans Beyond Adopting…
Are you considering adoption? Read this book! Perhaps adoption isn't for you—read this book anyway!  There are many different ways you can and should be involved in the important work of orphan care worldwide.  Orphan Justice will equip you to embrace God's call to "look after orphans and widows in their distress and to keep oneself from being polluted by the world."
Jim Daly
President, Focus on the Family
Orphan Justice is a fast paced, hard-hitting book that will anger and inspire you to rethink your view of orphans, the Gospel and how the church should respond by tackling issues that most want to ignore or avoid.  This book will prompt you and your church to take action and to tangibly care for the fatherless with wisdom, tenacity and intelligence.
Chris Marlow
Founder/CEO
Help One Now
"Johnny Carr does not write about justice for the orphan as one who merely observes from a distance, but as one whose life's journey, whose life's mission is to bring justice to the orphan. There is no leader in the evangelical orphan care movement whose work I value more. Orphan Justice is full of fearless thinking that is compelled by the love of Jesus. Johnny loves the orphans of our world because Jesus first loved him. Read. Be empowered. An then pursue justice for the orphan."
Dan Cruver
Founder, Together for Adoption
Author of Reclaiming Adoption
"If you're seeking a book to make you feel good about yourself, try the self-help section.  But if you're looking for a personal, provocative, and sometimes raw challenge to see the world in fresh ways, Orphan Justice is a must read.  Using gripping stories and surprising scriptures, Johnny Carr shakes readers from their slumber and alerts them to a global crisis begging for our attention.  Warning: Do not read this book unless you're prepared to be changed!"
Jonathan Merritt
Author of A Faith of Our Own: Following Jesus Beyond the Culture Wars
It's been heartening to see the church get excited about orphan care, but sometimes the best of intentions do not always align with best practice.  Orphan Justice is a book that bridges the gap between passion and practice.  Johnny Carr tackles the tough issues involved in orphan care, from the realities about institutionalization to the racism that still permeates our society.  It's an important read for church leaders, advocates, and anyone interested in answering the call to care for orphans.
Kristen Howerton
Blogger, Rage Against the Minivan
"No one has stood more at the forefront of the evangelical orphan care movement than Johnny Carr.  In this provocative book, Carr reminds us that while orphan care is never about less-than adoption, orphan care is about an entire range of issues.  Carr prophetically calls the church to care for orphans by combatting racism, trafficking, poverty, and abortion.  Even when you don't agree with all Carr's answers, you will be blessed by wrestling with him through the questions."
Russell D. Moore
Dean, Southern Baptist Theological Seminary
Author of Adopted for Life


"Johnny Carr is changing the conversation on the orphan crisis. I laughed, cried and winced in anger as Johnny shared stories from his personal and professional mission to care for the least of us. In Orphan Justice, Johnny brings us into a messy conversation and shows us practical solutions that can build consensus to move the needle."
 Ken Coleman
Talk Radio Host of The Ken Coleman Show
Author of One Question: Life Changing Answers From Today's Leading Voices
The theme of caring for the orphans and the fatherless permeates the biblical narrative and puts the gospel of display. Johnny Carr writes a compelling, Scripturally sound account of why caring for orphans should be as normal in the life of God's people as things like weekly fellowship or prayer. If you want your church to get excited about the practical possibilities of applying the gospel to suffering children locally and around the world get Orphan Justice in their hands. It will light a fire for mission.

Anthony Bradley
Author of Liberating Black Theology: The Bible and the Black Experience in America

Orphan Justice provokes the reader to action. The statistics and realities contained within can cause one of three responses, either it can paralyze us to the point of complacency as they overwhelm or it can energize us for a season to do as much as possible with the need becoming our motivation.  Ultimately, however, it is Johnny's heart that the third option would be chosen and that the worldwide church would awaken and be driven to seek the face of the Father as we serve the fatherless.  It is so Christ exalting to wrestle with this content and be motivated not by the need but by the Gospel.  This book is both compelling and heartfelt and worth your investment of time.

Herbert M. Newell IV
President/Executive Director
Lifeline Children's Services, inc.

Orphan Justice explores the big picture of what orphan care can and should look like. Not all of us are called to the same ministry, but all of us must do something. This book is eye-opening and important, a call to action written with incredible grace. It's a must-read for the Church and for all people wanting to do 'orphan care' well and responsibly.

Katie Davis
Author of Kisses from Katie

"Many of us have a desire to help orphans but we don't know where to start. Orphan Justice gives the VISION we need to understand how we, as the church, can be a part of the solution to the orphan care crisis. There's a role for everyone to play."

Mac Powell
Singer, Songwriter, Producer

Many of us have a desire to help the orphan, but we don't know where to start.  Orphan Justice provides the vision we need to understand how we, as leaders, can be a part of the solution to the orphan care crisis. Its a strategic call to the Church to act on behalf of the fatherless.  I highly recommend you take time to read it and learn how to be involved.

Brad Lomenick



"Orphan Justice is to the Christian church what 'The Purpose Driven Life' is to the Christian individual.  Johnny Carr issued a deeply personal, well-researched, practical, and immensely compassionate challenge to faith-based persons and organizations of all stripes.  Advocating for marginalized children, women, and families both close to home and in faraway lands, Carr is respectful and inclusive of different perspectives, yet unafraid to address polarized debates to seek a higher ground.  What makes the book moving, non-partisan, and ultimately effective is Carr's unabashed honesty to be self-critical first and foremost.  He does not pinpoint a single speck in our collective inaction without first removing the log from his own eyes.  This is not a book to merely be read and discussed, but to spur meaningful and lasting action locally and globally.  Carr renewed Jesus' call for the church with passion and grace."
Junlei Li, PhD
Psychologist and advocate for orphaned children
Principal Research Scientist, The Fred Rogers Company
Senior Fellow, University of Pittsburgh Office of Child Development