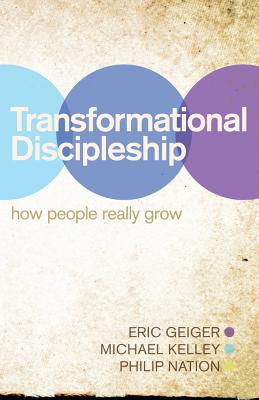 Transformational Discipleship
How People Really Grow
Paperback

* Individual store prices may vary.
Description
A Christian's desire to grow in faith is beautiful and biblical, best illustrated in Jeremiah 17 where Scripture describes "The man who trusts in the LORD" as being "like a tree planted by water . . . It will not worry in a year of drought or cease producing fruit."

But how do people really grow? Transformational Discipleship describes the process that brings to life that kind of person described in the Bible. There's no magic formula or mantra to recite here, but rather a substantive measure of research with churches and individuals who have wholeheartedly answered the call of Jesus to make disciples.

A compilation of their wisdom and stories, it surely guides church leaders and members to practice the intentional efforts needed to foster an entire culture in which people grow in Christian faith.

And they will grow, not because of human research, but by the power of the Word and of the Holy Spirit working through the church—the same way disciples have always been made. When the people of God engage in the mission of God through the Spirit of God, lives are transformed.


B&H Books, 9781433678547, 240pp.
Publication Date: June 1, 2012
About the Author
Eric Geiger es el vice presidente de la división de Recursos Humanos de Lifeway. Recibió su doctorado en Liderazgo y Ministerio de Iglesias en el Seminario del Sur. Como pastor también enseña y es orador y asesor para misiones y estrategias de iglesias. Eric es autor y co-autor de diversos libros, incluido el éxito de ventas en libros sobre liderazgo Iglesia Simple. Vive junto a su esposa Kaye y tienen dos hijas, Eden y Evie.


Eric Geiger serves as the vice president of the Church Resource Division at LifeWay Christian Resources. Eric received his doctorate in leadership and church ministry from Southern Seminary. He is also a teaching pastor and a frequent speaker and consultant on church mission and strategy. Eric has authored or co-authored several books including the best-selling church leadership book, Simple Church. He is married to Kaye, and they have two daughters, Eden and Evie.

Michael Kelley es el director de Discipulado en Lifeway Christian Resources y el autor de Aburrido: Encontrando a un Dios extraordinario en una vida ordinaria. Entre algunos de sus trabajos previos se incluye Vocabulario Santo, Los fuertes refranes de Jesús y Los miércoles eran bastante normales. Posee una Maestría en Divinidad de la Escuela de Divinidad Beeson en Birmingham, Alabama. Michael y su esposa tienen tres hijos y viven en Nashville, Tennessee.


Michael Kelley is director of Discipleship at LifeWay Christian Resources and author of Boring: Finding an Extraordinary God in an Ordinary Life.  His previous works include Holy Vocabulary, The Tough Sayings of Jesus, and Wednesdays Were Pretty Normal. He holds a Master of Divinity degree from Beeson Divinity School in Birmingham, Alabama. Michael and his wife have three children and live in Nashville, Tennessee.

Philip Nation es el director Desarrollo de Ministerio con Lifeway Research. El co-editó La Biblia de Estudio La Misión de Dios y es co-autor de Obligado por el amor junto a Ed Stetzer.

Philip Nation is director of Ministry Development with LifeWay Research. He co-edited The Mission of God Study Bible and co-authored Compelled by Love with Ed Stetzer.