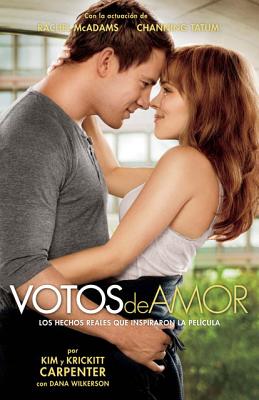 Votos de Amor: Los Hechos Reales Que Inspiraron la Pelicula = The Vow (Paperback)
Los Hechos Reales Que Inspiraron la Pelicula = The Vow
B&H Espanol, 9781433678950, 183pp.
Publication Date: June 1, 2012
Description
La vida que Kim y Krickitt Carpenter tenian juntos se deshizo al punto de lo irreconocible el 24 de noviembre de 1993. Dos meses despues de su boda, un catastrofico accidente de automovil dejo a Krickitt con una lesion masiva en la cabeza y en coma por semanas. Cuando ella finalmente recupero el conocimiento, no tenia idea de quien era Kim, su esposo. No podia recordar su relacion y sufria de los trastornos de la personalidad caracteristicos de quienes experimentan lesiones en la cabeza. Asi fue que Kim reconocio que la mujer con quien se habia casado esencialmente murio en el accidente. Sin embargo, aunque todo les jugaba en contra, la fe que ambos tenian en Cristo los sostuvo, de modo que Kim y Krickitt volvieron a enamorarse. Aunque Kim apoyo a Krickitt durante toda la travesia mas oscura que un esposo jamas podria imaginar, afirma "No soy ningun heroe. Hice un voto de amor."Votos de Amor es la verdadera historia que inspiro la destacada pelicula del mismo titulo y protagonizada por Rachel McAdams (El diario de Noa), Channing Tatum (Querido John), Sam Neill (Parque Jurasico) y Jessica Lange, ganadora del premio de la Academia Cinematografica. Life as Kim and Krickitt Carpenter knew it was shattered beyond recognition on November 24, 1993. Two months after their marriage, a devastating car wreck left Krickitt with a massive head injury and in a coma for weeks. When she finally awoke, she had no idea who Kim was. With no recollection of their relationship and while Krickitt experienced personality changes common to those who suffer head injuries, Kim realized the woman he had married essentially died in the accident. And yet, against all odds, but through the common faith in Christ that sustained them, Kim and Krickitt fell in love all over again. Even though Kim stood by Krickitt through the darkest times a husband can ever imagine, he insists, "I'm no hero. I made a vow." Now available in trade paper with a new chapter and photo insert, The Vow is the true story that inspired the major motion picture of the same name starring Rachel McAdams (The Notebook), Channing Tatum (Dear John), Sam Neill (Jurassic Park), and Academy Award winner Jessica Lange.
About the Author
Kim y Krickitt Carpenter tienen dos hijos y viven en Farmington, Nuevo Mexico, donde Kim se desempena como subdirector general del Condado de San Juan y Krickitt trabaja como maestra escolar suplente. Kim and Krickitt Carpenter have two children and live in Farmington, New Mexico, where Kim is deputy CEO for San Juan County, and Krickitt works as a substitute schoolteacher.
Advertisement