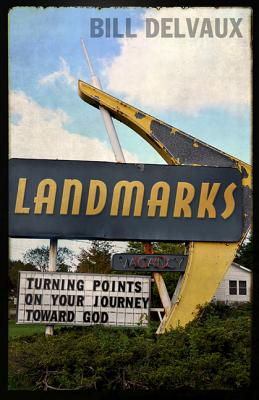 Landmarks
Turning Points on Your Journey Toward God
Paperback

* Individual store prices may vary.
Description
The well-worn rut that most of us live in is safe, comfortable . . . some would call it dead. By contrast, coming alive requires a willingness to journey into the unknown. Following Jesus is just such a path -- one that takes us deep into His death and then lifts us up into His resurrection.
There are some risks involved, and there are no point A to point B maps. But there are landmarks, places we must pass along the way if we are to keep following Christ into real life.Landmarks describes these breakthrough places of the heart and mind in the general order in which they tend to show up. Long-time teacher and first-time author Bill Delvaux shares his landmark story and takes read- ers through nine different spiritual markers that must be encountered in order to live the full life that Jesus has planned for us.Some of the landmarks include letting go of idols, overcoming scars, walking away from sexual sin, grasping your identity, fighting your battle, bonding with Christ, and choosing God first.So, if you feel stuck out there on the highway of humanity and need some tried and true spiritual direction, look for Landmarks.



 If you want to keep stuffing your unmet desires, and keep ignoring your ongoing anxieties, and keep settling for your unsatisfying connection to God and those around you, then be sure you don't read this book. But if you want to find a balm for your unhealed wounds, insight into your unhealthy obsessions, and courage to pursue your unfulfilled dreams, then take a sit and read. Nancy Guthrie, author of Holding on to Hope, The One Year Book of Hope, Hoping for Something Better and the Seeing Jesus in the Old Testament Bible Study series Over the years, I have encountered countless men, young and old, whose lives intersected at some point with Bill Delvaux. The common denominator is that each one of them can trace back to that intersec­tion, and talk about a shift that took place. That shift involved something he said, or some kind of experi­ence with Bill where they were stirred, invited into something bigger and changed in some way.You are about to experience that intersection. Prepare to be invited, stirred and disrupted in the best of ways. David Thomas, therapist and author of Wild Things: The Art of Nurturing Boys  I've known Bill as a great teacher with a passion for truth, God's word, and authentic faith at the school my children attend. What I never really knew before reading his book was the rich story that's shaped him and his heart to make him the man that he is and is becoming. It is a rare gift when someone opens the book of themselves to share their deepest stories as Bill has done and I believe those who read his story will be grateful as I am. Steven Curtis Chapman, Grammy and Dove Award-winning singer and songwriter Bill Delvaux fiercely taps into the heart of every person's struggle to write their own story. The experi­ences he so honestly and vulnerably shares from his own story are as penetrating as they are inspiring and redeeming. Jake Speck, theatre producer and actor in the Broadway hit Jersey Boys and the TV series Nashville What a gift Landmarks is! With his first book, Bill Delvaux has given us the beauty of God's redemptive story; the fruit of his own well-stewarded pain; and a path for each of us to follow into a journey of grace, healing, and freedom. I cannot wait to see how God is going to use this book in the lives of countless men—to help them find their place in God's story. Scotty Smith, founding pastor, Christ Community Church and author of Every Day Prayers: 365 Days to a Gospel Centered Faith, Objects of His Affection, The Reign of Grace and Restoring Broken Things Bill Delvaux has incredible insight into the journey we need to take. I recommend this book as one that is filled with wisdom and profound encouragement. Read it with an open heart and an expectation that God will use it mightily to transform you. Carter Crenshaw, senior pastor of West End Community Church I commend Bill Delvaux's new work, Landmarks to you. I have the privilege of serving as pastor to the church where Bill and Heidi are members, and have witnessed first-hand the impact of this book's concepts on hundreds of people. Take this book up, read it, and share it with others. You'll be glad that you did. Scott Sauls, Senior Pastor of Christ Presbyterian Church, Nashville TN To me, Bill is something of an evangelical exotic: the rare male who is genuinely willing to be transpar­ent and authentic in light of the gospel and its invita­tion to be transformed. I sat in Bill's classes many times over the years as he developed the themes in this book through teaching and relating his own story. I gained plenty and am glad to know that many more will have the same opportunity. Ashley Cleveland, Grammy and Dove Award Winning Recording Artist  

Praise For Landmarks: Turning Points on Your Journey Toward God…
So much men's work has been built exclusively on secular sources or exclusively on religious sources. Bill Delvaux teaches from wisdom wherever it is to be found, including our Judeo-Christian sources.
 
Richard Rohr
Franciscan priest, founder of the Center for Action and Contemplation and best-selling author of Adam's Return and From Wild Man to Wise Man
 
 
In Landmarks: Turning Points on Your Journey Toward God, author Bill Delvaux describes a series of unexplainable choices that yielded satisfying results. He left a ministry position for teaching, and left his teaching position to write and speak about faith. A thoughtful writer, Delvaux was asked by a colleague to explain how his spiritual journey developed through these counterintuitive decisions. Delvaux responds that though he never knew he was going in the right direction, his Heavenly Father provided certain "landmarks" along the way. For frequent readers of evangelical nonfiction, the landmarks may seem unsurprising—giving up idols, addressing old wounds, seeking sexual purity. Yet Delvaux's way of addressing these topics gives this slim book both gravity and purpose. When discussing idols, for instance, Delvaux shares his own former insistence that the details of his life be in order, right down to his junk mail. He realized that grasping toward perfection was ultimately idolatrous. As he reveals his own story, readers are gently guided to consider their own. A movie fan, Delvaux situates many of his lessons within the context of popular films. A small book that leaves a big impression, Landmarks tells how one man was transformed by embracing the principles he'd been teaching his whole life.
 
BookPage
B&H Books, 9781433679223, 208pp.
Publication Date: March 1, 2013
About the Author
Bill Delvaux taught Men of the Bible classes for two decades at Christ Presbyterian Academy in Nashville, Tennessee. He holds degrees from Duke University and Trinity Evangelical Divinity School and is now a full-time speaker and retreat minister. Landmarks is his first book.
or
Not Currently Available for Direct Purchase