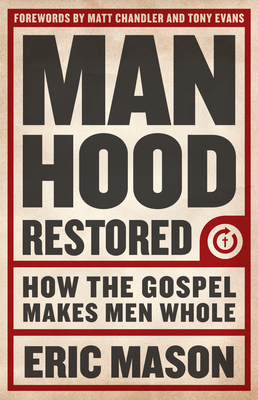 Manhood Restored (Paperback)
How the Gospel Makes Men Whole
B&H Books, 9781433679940, 224pp.
Publication Date: May 1, 2013
Other Editions of This Title:
Paperback (5/1/2013)
Hardcover (5/1/2013)
* Individual store prices may vary.
Description
The earthly crisis within manhood will be there until Jesus returns, but in Christ men are pointed toward the gospel as the vision for renewal.
Manhood Restored
by exciting new pastoral voice Eric Mason combines theological depth with practical insights, putting men in step with a gospel-centered manhood that will enrich every facet of their lives.

Mason begins with The Scope of Manhood -- looking first at why God created man, at the divine differences between man and woman, and what should drive the purpose of a man during his time on earth.


A section on The Problems in Manhood analyzes the false icons that lead to cultural caricatures of men -- the businessman, the thug, the playboy, the athlete, etc. Mason then makes a connection to the cross-cultural fatherhood crisis, looking at the things men do to fill the void when their relationship with dad or God is not there.


Finally, The Redemption of Manhood sets Jesus as the true standard of biblical manhood, looking to his perfect example to redeem and restore a man's life in the areas of sexuality, home, and work.
About the Author
Eric Mason es cofundador y pastor principal de la Iglesia Epiphany Fellowship en Philadelphia, Pennsylvania (EE.UU.). Se diplomó en el Seminario Teológico de Dallas (Maestría en Teología) y el Seminario Teológico Gordon-Conwell (Doctorado en Ministerio). Eric y su esposa tienen dos hijos.

Eric Mason is cofounder and lead pastor of Epiphany Fellowship in Philadelphia, Pennsylvania. He holds degrees from Dallas Theological Seminary (ThM) and Gordon-Conwell Theological Seminary (DMin). Eric and his wife have two children.
Matt Chandler se desempeña como Ministro Principal de Enseñanza en la Iglesia The Village, en el complejo metropolitano de Dallas/Fort Worth, Texas (EE.UU.). Llegó a la mencionada iglesia en diciembre de 2002 y describe su ocupación allí como un esfuerzo de replantar donde participó en el cambio de la cultura teológica y filosófica de la congregación. La iglesia ha experimentado una enorme respuesta de crecimiento, de 160 miembros a más de 11,000, con establecimientos en diversas localidades del complejo metropolitano.
Actualmente Matt participa en los esfuerzos de plantación de iglesias a nivel tanto local como internacional mediante la Iglesia The Village y diversas alianzas estratégicas. Se desempeña como presidente de Hechos 29, una organización de plantación de iglesias a escala mundial. Durante los 10 últimos años, Hechos 29 surgió de una pequeña congregación y se extendió a unas 500 iglesias en los Estados Unidos y alrededor del Mundo.  Además de disertar en conferencias alrededor del mundo, Matt ha escrito varios libros, entre los que se incluyen The Explicit Gospel (El evangelio explícito) y Creature of the Word (Criatura de la Palabra), publicados en abril y octubre de 2012 respectivamente. Aparte de Jesús, su mayor alegría es haberse casado con Lauren y ser el padre de sus tres hijos Audrey, Reid y Norah.


Matt Chandler serves as Lead Pastor of Teaching at The Village Church in the Dallas/Fort Worth metroplex. He came to The Village in December 2002 and describes his tenure as a replanting effort where he was involved in changing the theological and philosophical culture of the congregation. The church has witnessed a tremendous response growing from 160 people to over 11,000 with campuses in Flower Mound, Dallas, Denton and Fort Worth.
Matt is currently involved in church planting efforts both locally and internationally through The Village and various strategic partnerships. He serves as president of Acts 29, a worldwide church-planting organization. Over the last 10 years, Acts 29 has emerged from a small band of brothers to nearly 500 churches in the United States and around the world.
Beyond speaking at conferences throughout the world, Matt has also written two books, The Explicit Gospel, published in April 2012, and Creature of the Word, released in October 2012. His greatest joy outside of Jesus is being married to Lauren and being a dad to their three children, Audrey, Reid and Norah.
Praise For Manhood Restored: How the Gospel Makes Men Whole…
In the thirty-two years I was a college coach I witnessed first- hand how young men were coming to college with the lack of a spiritual foundation that would prepare them for life's next set of challenges. You could tell that Godly parenting skills were sorely missing. Dr. Eric Mason in his book, Manhood Restored helps men regain their leadership role in the family. I would recommend this book to any father or husband who desires to step up to the challenge presented by Dr. Mason.
Tommy Bowden
Former college football coach and now a featured analyst on The NEW College Football Show on FOX Sports South
I have been a friend and fan of Dr. Eric Mason for over a decade. I could not be more excited about his voice speaking into what I believe is the most critical issue of our day, the state of our men. Manhood Restored is a powerful resource that will help men of all ages understand the problems men create and how they can get on the solution side. The ideas and truths in this book are not just detached ideals written from an ivory tower . . . I have watched Eric work out his own masculinity in a powerful way as a husband, father, church planter, church leader, movement leader, and good friend.
Dr. John W. Bryson
Cofounder, Pastor Fellowship Memphis and lead writer, Co-Presenter 33 the Series
Eric Mason has written a practical, biblical, and gospel- centered vision of true manhood. Saturated in the person and work of the Lord Jesus Christ, our perfect model of true manhood, Mason carefully addresses an essential key to changing our churches and communities—the discipleship of men. Read this book, brother, and watch the Lord change your life. Share it and watch the Lord change the brothers in your sphere of influence.
H. B. Charles Jr.
Pastor/Teacher at the Shiloh Metropolitan Baptist Church, Jacksonville, Florida
Sin is social. Even the most private and individual of sins— wallowing in porn, for example—are never merely individual. Devouring porn may be an individual offense, but it is also an insult to God—and because it works out in perverted or abusive or manipulative relationships, it is also social. That is why the gospel, in all its massive power, does not only reconcile us to God, but so transforms us that healthy relationships begin to bud all around us: the shattered social fabric begins to be healed. Perhaps no human relationships are more broken today than those within the family, within what used to be the family. And most frightening of all are the sad realities bound up with absent or abusive or selfish fathers. I gratefully applaud the ministry of Eric Mason as he seeks to apply the whole counsel of God to form Christian men, Christian husbands, Christian fathers, who in gospel grace and joy take up the reins of responsibility and faithful service to stamp new generations with a passion for strong, self-sacrificing love and holiness.
D. A. Carson
Research professor of New Testament at Trinity Evangelical Seminary, Deerfield, Illinois
Pastor Eric Mason is a man I have known and respected for many years. He has planted and is leading a fast growing Bible teaching city reaching church in a rough Philly neighborhood. I'm excited to see this book released as it blends his rare skill set as a first rate formally trained theologian who is literally on the front lines of urban ministry.
Mark Driscoll
Founding Pastor of Mars Hill Church
Founder of The Resurgence, Cofounder of Acts 29
New York Times #1 best-selling author
In this age of increasing confusion about manhood, marriage and God's Word, Eric Mason has emerged as a refreshing, clear and prophetic voice. This book not only speaks to today's urban youth, it also powerfully speaks to all who have concerns about the general direction of our society. For anyone cares about applying God's truth to contemporary challenges, Manhood Restored is a must reed.
Dr. Carl Ellis Jr.
Assistant Professor of Practical Theology, Redeemer Seminary
Manhood has fallen on hard times. So many men have been beaten-up by the past, mired in the consequences of  bad choices, and confused and disoriented by a culture committed to redefining manhood so that we can cover the fractures and disguise the torment. That's why I am thrilled for the gift of Manhood Restored.  What a clear, compelling portrait of the power of the gospel to transform broken males into whole, godly men. You have pointed us to the Savior who makes all things new. This is our hope and our courage.
Dr. Crawford W. Loritts Jr.
Author, speaker, radio host
Senior Pastor, Fellowship Bible Church, Roswell, Georgia
Few issues fire me up like the topic of men acting like men. My friend and ministry partner Eric Mason offers hope to, incites healing for, and wreaks havoc on men. Every man who follows Jesus needs to read this book and apply the biblical truth in it to his life. The men in our churches, the marriages in our churches, and our churches will be better for it.
James MacDonald
Senior Pastor of Harvest Bible Chapel
Author of Vertical Church
There is no greater need in our day than to answer two questions: What is a man? and What is a godly man? In this helpful and biblical book, Eric Mason answers these questions. If you are a man, read and heed this great work.
Dr. Darrin Patrick
Lead Pastor of The Journey, St. Louis, Missouri
Author of For the City, Church Planter: The Man, The Message, The Mission, and A Dude's Guide to Manhood: Finding True Manliness in a World Of Counterfeits
As parents of three boys, we are praying that each will live God honoring lives, realize their God-given potential and reach their God-given destiny. This will only happen if a clear course—a map of manhood—is drawn out for them to follow. Manhood Restored is a tool that will not only help grown men live well but also serve as a compass for the next generation. Our friend Eric Mason writes from experience. We've admired him as a faithful husband and father, disciplined student of God's Word and dedicated servant of the Lord His integrity and wisdom shine through on every page. Men of all ages should read this book and treasure its truths deeply in their souls.
Jerry and Priscilla Shirer
Bible teacher and Author
From the moment God formed man, we were charged with possessing God's essence and reflecting His character. Throughout history, this intended role of a man has gradually shifted to a view that's now become common—the notion that a man's merit is predicated on his worldly success, by all means. We have become consumed with being THE man instead of A man. True "Manhood" has lost the real prerequisite, an intimate relationship with God! A team captain cannot effectively lead without being a ref lection of the coach. When men re-establish our connection with our creator, we see the fruit—healthier families, stronger communities, a society with substance, and world leaders who are equipped with integrity and purpose.
Allan Houston
New York Knicks