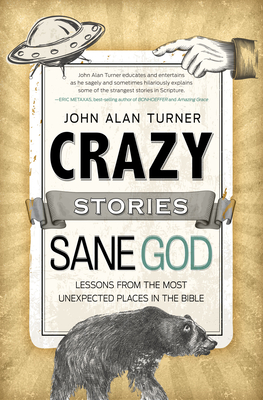 Crazy Stories, Sane God (Paperback)
Lessons from the Most Unexpected Places in the Bible
B&H Books, 9781433681288, 256pp.
Publication Date: March 1, 2014
* Individual store prices may vary.
Description
You probably know a lot of Bible stories: Joseph and his coat, David and Goliath, Daniel and the lions, Jesus walking on water. These get mentioned everywhere from popular literature to your local church.

But there are other stories in the Bible that preachers and Sunday school teachers tend to skip over because . . . well . . . because they seem crazy—the kind of stories that make us change the subject quickly when children bring them up, because we don't know why they're in the Bible or what they could possibly mean.

You want examples? There's the time a prophet calls a couple of bears out of the woods to maul a gang of rowdy teenagers. There's also a story about a woman who dresses provocatively and tricks her father-in-law into getting her pregnant. And their son ends up in the genealogy of Jesus! What are we to make of these strange, sometimes cryptic, sometimes even off-color stories? What are they doing in the Bible?

In Crazy Stories, Sane God popular author and teacher John Alan Turner takes us on a wild and unpredictable ride through the weirdest and least familiar stories in the Bible. Through it all, Turner shows us how even these odd episodes reveal important things about the character and nature of God and, consequently, what they mean for us today.

About the Author
John Alan Turner is a writer, theologian, consultant, teacher, Resident Theologian for Stonecreek Church and as Senior Fellow for The ScreamFree Institute. His previous books include The Gospel According to the Da Vinci Code, Hearts and Minds: Raising Your Child With a Christian View of the World and The 52 Greatest Stories of the Bible: A Daily Devotional. John lives with his wife and three daughters just outside Atlanta, Georgia.
or
Not Currently Available for Direct Purchase