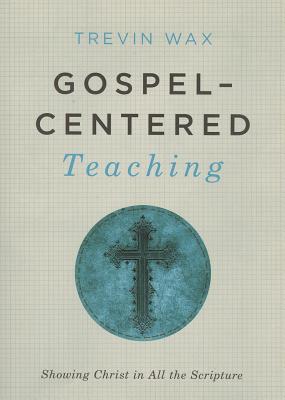 Gospel-Centered Teaching (Paperback)
Showing Christ in All the Scripture
B&H Books, 9781433681721, 128pp.
Publication Date: October 1, 2013
* Individual store prices may vary.
Description
For small group leaders and Sunday school facilitators who prefer truth over technique, Gospel-Centered Teaching is refreshing in its simple purpose to remind you of something you already instinctively know:
It's Jesus who changes lives, and the goal of your Bible study is to continually reintroduce people to Him.
While discussing in depth common related concerns (missional apathy, biblical illiteracy in the church, shallow discussions, etc.), author and teacher Trevin Wax duly offers a practical guide to making sure your message is always surely centered on Jesus and what He has done:
"Fellow teachers, let's soak ourselves in the truths of the gospel and the Word. Then, let's invite others to the fountain of living water offered freely by our Master Teacher whose life and death changes everything."
About the Author
Trevin Wax is managing editor of The Gospel Project at LifeWay Christian Resources, a pastor, contributing editor to Christianity Today, and the author of previous books including Counterfeit Gospels and Holy Subversion. Trevin lives with his wife and children in Nashville.

Praise For Gospel-Centered Teaching: Showing Christ in All the Scripture…
It's often said that the pulpit drives the church. Often overlooked is the role of gifted, godly teachers and leaders of small groups. The church needs not only pastors and preachers who point us to Jesus, but also teachers and leaders who overflow with love for Christ and love for the lost. Gospel-Centered Teaching will help accomplish this important goal. Superbly written, it is an accessible and helpful guide for leaders who want to ensure that their teaching of the written Word is always pointing others to the Living Word. This will be an extremely valuable tool for the building up of the Body of Christ.
Danny Akin
President of The Southeastern Baptist Theological Seminary in Wake Forest, NC
Pastors, if you are looking for a small book of great impact to give to all your teachers and group leaders this year, Gospel Centered Teaching by Trevin Wax is it. Written to help teachers ground their task in Christ, this book points them to a big God and his sufficient Word, not easy shortcuts or new methods. You will love it and love how much it helps your teachers.
Jason Duesing
Vice President for Strategic Initiatives and Assistant Professor of Historical Theology at The Southwestern Baptist Theological Seminary, Fort Worth, TX
A helpful resource steeped in good theology and imminently accessible. Perfect for those looking to teach practical insight in the context of the grand narrative.
J.D. Greear
Pastor of Summit Church in Raleigh, NC and author of Gospel: Recovering the Power that Made Christianity Revolutionary and Stop Asking Jesus Into Your Heart: How to Know For Sure You Are Saved.
Many of us teach the Bible using our instincts—instincts honed through years of Sunday School lessons and small group discussions that focused on how to follow the example of a biblical character or how to apply what we've read to our lives right now. To overcome these instincts we've got to become convinced there is a better way and provided with tools to retrain them. That's just what Gospel Centered Teaching provides. Whether you've been teaching for years or are just getting started, you'll gain something from this accessible book. I sure did.
Nancy Guthrie
Author of the Seeing Jesus in the Old Testament Bible study series
Gospel-Centered Theology has fast become a popular term in American Christianity to call us back to the role of the power of Jesus in every area of life. Yet it also has become an unclear genre within American Christianity.  In many ways it has become a movement, but in other ways it has become a fad. Hopefully in our generation, we will see the LORD use this movement in the grand scheme of people coming to know Jesus for the first time and believers understanding that we grow by that same gospel.  That is why, Trevin's resource Gospel-Centered Teaching is a great aid to serve pastor's, teacher's, and disciple makers.  Whenever there is a movement, there has to be resources that serve, resource, and focus it for longterm sustainability.  Hopefully this resource will be used to do this in our time and beyond.
Eric Mason
Lead Pastor of Epiphany Fellowship and President of Thriving
Bible teachers or small group leaders often ask a lot of questions in order to grow in their craft. Trevin raises the question teachers should ask: How can one center every message on Jesus and what he has done? I'll be handing out this wonderful resource to many folks because Trevin explains the what, why, and how of Gospel-centered teaching so clearly and concisely.
Tony Merida
Pastor of Imago Dei Church in Raleigh, NC
At some point every preacher, teacher or small group leader will hear someone express disappointment with their teaching by suggesting that he or she want to "go deeper."  While these disappointed Bible students may not really know what they mean by "going deeper," I suspect they may have a correct notion that something's missing from our teaching.  If we begin a quest to find "what's" missing, we'll likely embark on an endless search for "new and better" methods and curricula.  In Gospel-Centered Teaching, Trevin Wax wisely points us to the right question – "Who's missing?"  The answer, of course, is Jesus.  When we ask "Who's missing?" from our preaching/teaching, we'll embark on a quest to find Christ in all of Scripture.  In this short, conversational, and extremely practical book, Trevin serves as an excellent guide who leads us to understand how to teach the Bible with Christ as our focus, the gospel as our center and the entire Bible as one big story about Jesus.  If you want to teach a Christian lesson or preach a Christian sermon that glorifies our Savior and leads the church to live on mission, then you'll want to read this book!
Juan R. Sanchez, Jr.
Preaching Pastor at High Pointe Baptist Church, Austin, TX
Theologically robust teaching and missional passion don't have to be at odds with each other. Properly understood, solid teaching fuels mission because it leads us to Jesus Christ, the Son of God who was sent and now sends. Trevin Wax has given us a brief, easy-to-understand guide to what it means to be focused on Christ in our teaching. I recommend pastors give the book to all their volunteer leaders and teachers. I know I will.
Ed Stetzer
Pastor of Grace Church and President of LifeWay Research in Nashville, TN
The Apostle Paul writes in 1 Corinthians 4 that Jesus is the foundation of the church and we must take care how we build upon this foundation.  As a pastor, I am primarily concerned with making sure that every gathering and every ministry of our church is rooted in the Gospel of Jesus Christ.  Since my calling is to equip the saints for the work of the ministry (Eph. 4:12), it is of critical importance that all the leaders of our church are trained to root all their teaching, counseling, and serving in the Gospel.  I am so thankful for this concise and very practical book, Gospel Centered Teaching.  I plan on distributing this to every one of our community group leaders and I highly recommend all pastors to get this book in the hands of their teachers and lay leaders. 
Afshin Ziafat
Lead Pastor Providence Church, Frisco, TX