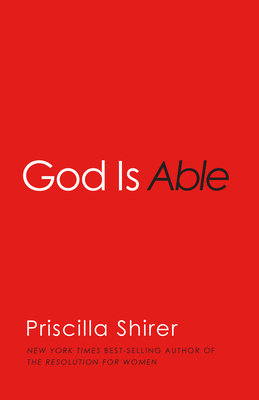 God is Able
Paperback

* Individual store prices may vary.
Other Editions of This Title:
Compact Disc (6/1/2018)
Description
Got an IMPOSSIBLE situation? The anxiety it brings can wake you in the middle of a needed night's sleep and then stalk you in the middle of broad daylight. It can sneak up on you and cast a cloak of fear and concern over your shoulders that you can't seem to shake no matter how hard you try. It can take you down. Squash all hope. Stop you in your tracks.
 
IMPOSSIBLE. IMPENETRABLE. UNCHANGEABLE. Maybe so . . . until God gets involved. No matter the details of your circumstance, His raw power potential and immeasurable ability refuse to cower in the face of any challenge. Nothing is impossible with God. Nothing. Not even that thing.
This is the uplifting, well-reasoned answer from New York Times best-selling author Priscilla Shirer—not a denial of life's adversities and troubles, but a biblical reminder that God is always up to great things, even when His great things are greater then instant remedies and visible change. He is a God who cares . . . and a God who CAN. Believe it. Experience it. God Is Able.
B&H Books, 9781433681912, 176pp.
Publication Date: October 1, 2013
About the Author
Priscilla Shirer, maestra de enseñanza bíblica y conferencista, tiene un diploma de Master en Estudios Bíblicos del Seminario Teológico de Dallas. También es reconocida como escritora. Entre sus libros se incluye Uno en un millón, Interrupción divina y La resolución para mujeres, este último incorporado a la lista de títulos exitosos del New York Times. También actúa como personaje principal en la película "Cuarto de guerra" (War Room). Priscila está casada con Jerry Shirer, con quien fundó el ministerio "Going Beyond". Tienen tres hijos y viven en Dallas, Texas.

Priscilla Shirer is a Bible teacher and conference speaker with a Master's degree in Biblical Studies from Dallas Theological Seminary. Also a popular author, her books include the New York Times Best-Seller, The Resolution for Women, One in a Million, and Life Interrupted. She is also the lead character in the War Room movie. Priscilla is married to Jerry with whom she founded Going Beyond Ministries. They have three sons and live in Dallas, Texas.