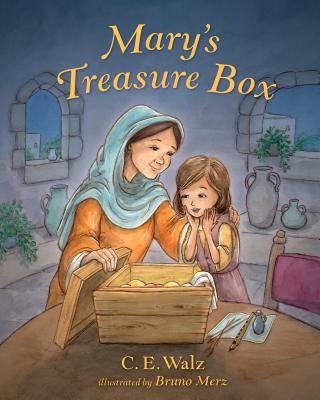 Mary's Treasure Box (Hardcover)
B&H Kids, 9781433683947, 32pp.
Publication Date: October 1, 2015
* Individual store prices may vary.
Description
Every mother has special memories, but Mary's memories are like no other.

Doesn't every mother have a box filled with treasured mementos and trinkets? If sweet memories aren't hidden in a closet or an attic, perhaps they are tucked away in a corner of her heart. 
But Mary's treasure box is unlike any other. She has filled it with bits of straw from a manger, a little gold from the Magi, and other dear reminders of one silent night in a Bethlehem stable. Now, decades later, Mary opens her treasure box once again and shares her most cherished memories with her granddaughter, Hannah. Join them as they revisit the simple splendor of the Nativity story.
About the Author
C.E. (Carolyn) Walz is the author of several books for children and is a popular visiting author at schools and churches.  In addition, she is a church musician and a composer of vocal and piano music. With a degree in Christian Education from Atlanta Christian College and a Master of Education from Georgia State University, Carolyn chairs the Middle School English Department at Woodward Academy, one of the largest private schools in the United States. Carolyn lives in Newnan, Georgia, with her husband and son. When she's not tackling the misplaced modifier or the dangling participle in the classroom, she can be found mountain hiking, bird watching, playing the saxophone, or writing for children—but not all at the same time!