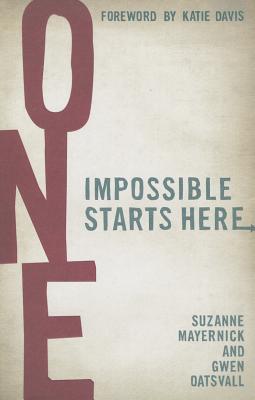 One (Paperback)
Impossible Starts Here
B&H Books, 9781433684081, 208pp.
Publication Date: January 1, 2015
* Individual store prices may vary.
Description
Few people imagine themselves doing what Gwen and Suzanne are doing—raising thirteen children between their two respective families, with seven of their kids arriving by way of adoption. But Gwen and Suzanne didn't imagine themselves doing it either—not until they took one simple step of biblical obedience, followed by the next step, which led to the next step, until God turned each of these believing steps into a full, steadily enriching journey of togetherness, challenge, friendship, love, adventure, tears, faith, confidence.
 
All the makings of an impossibly joyful life.
 
And for those who find themselves stuck somewhere between fear and inferiority, between doubt and disillusionment, tired of bare spiritual minimums but unable to spot a path that takes them to anything more meaningful, the simplicity of this message could finally reveal how God can work through their ordinary selves and their uncertain steps of surrender to make His presence overwhelmingly known in their lives.
 
From China to Uganda, east and west throughout the United States, with daily, hourly, moment-by-moment prayer excursions between earth and heaven, these stories and their humble beginnings will inspire you to start again, right where you are—embracing the one opportunity for obedience, love, or service that's staring you in the face today, and watching God stretch it (and you) into something (and into someone) that you never imagined possible.

About the Author
Gwen Oatsvall and Suzanne Mayernick met nine years ago as they were both going through their first adoptions (one domestic and one international) … Thirteen kids and seven adoptions later, they are bound together through faith and mission. They love "doing life together" and through their organization, 147 Million Orphans, work to provide critical needs for vulnerable children around the world in the name of Jesus Christ.  They believe the first YES is always the hardest, but that joy comes in the surrender.
or
Not Currently Available for Direct Purchase