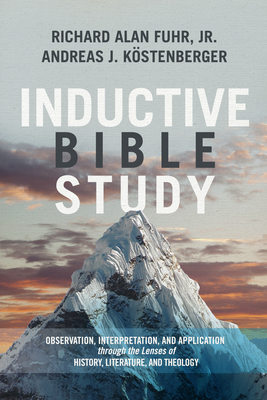 Inductive Bible Study
Observation, Interpretation, and Application through the Lenses of History, Literature, and Theology
Hardcover

* Individual store prices may vary.
Description
Inductive Bible study is a practical, relevant, and time-tested approach to interpreting Scripture. This volume incorporates insights from contemporary evangelical hermeneutics into an approachable, step-by-step process moving from observation through interpretation and on to the application of God's Word. Each step is viewed through the lenses of the hermeneutical triad, exploring the historical, literary, and theological elements that impact how one observes, interprets, and applies the Bible. Chapter by chapter, Inductive Bible Study explores a broad representation of biblical texts as it illustrates the steps of inductive methodology across the literary landscape of Scripture. Important features of the book include comparing translations, asking the right questions of the text, basic discourse analysis, considering various facets of context, the study of words and phrases, interpretive and thematic correlation, evaluating relevance and determining legitimacy in application, the role of the Holy Spirit in appropriating Scripture, and doing theology as the outflow of inductive Bible study.

Praise For Inductive Bible Study: Observation, Interpretation, and Application through the Lenses of History, Literature, and Theology…
"This wonderful new volume by Fuhr and Köstenberger is a breath of fresh air. It turns our attention back to where it belongs, namely on God's Word. It will be a great blessing to every believer eager to understand the Scriptures better."

—Michael J. Kruger, president and professor of New Testament, Reformed Theological Seminary, Charlotte, NC

"It is exciting to see this work that blends the inductive method with the historical disciplines. . . . Our deep thanks are due Kӧstenberger and Fuhr for this invaluable resource for quality Bible study."

—Grant R. Osborne, professor emeritus, Trinity Evangelical Divinity School, Deerfield, IL

"Fuhr and Kӧstenberger's new book will help a new generation of students discover the joy of studying the Bible for themselves. Here you will find a hermeneutically sound and accessible guide to studying the Bible inductively."

—Robert L. Plummer, professor of New Testament interpretation, The Southern Baptist Theological Seminary, Louisville, KY, and host of www.DailyDoseOfGreek.com

"I know of no other book that covers such a wide range of issues with such user-friendly expertise and wise simplicity. Read it to (re)kindle excitement about mining Scripture's inexhaustible riches!"

—Robert W. Yarbrough, professor of New Testament, Covenant Theological Seminary, St. Louis, MO
B&H Academic, 9781433684142, 384pp.
Publication Date: November 15, 2016
About the Author
Andreas J. Kӧstenberger is founder of Biblical Foundations™ and Senior Research Professor of New Testament and Biblical Theology at Southeastern Baptist Theological Seminary in Wake Forest, NC. He is a prolific author and distinguished evangelical scholar.
 
Richard Alan Fuhr Jr. is Associate Professor of Old Testament and Biblical Studies at Liberty University School of Divinity in Lynchburg, VA. He is co-author of The Message of the Twelve: Hearing the Voice of the Minor Prophets.