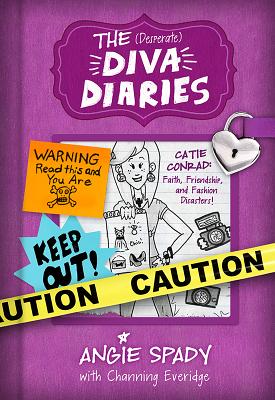 Catie Conrad (Hardcover)
Faith, Friendship and Fashion Disasters (Desperate Diva Diaries Series)
B&H Kids, 9781433684609, 304pp.
Publication Date: September 1, 2014
* Individual store prices may vary.
Description
Meet, Catie Conrad - a typical Christian tween with, oh, the weight of the world on her shoulders. And if it isn't bad enough that no one seems to understand the social pressures of being the greatest at everything, donning the latest fashions, and carrying the trendiest technology, Catie's dad is about to uproot her and her family to an Indian reservation during spring break for his job. Throw in a school dance, a major art contest, and an arch nemesis known only as Miranda Maroni and there's bound to be an epic meltdown of biblical proportions. Or, maybe not…

Finally a voice in the tween genre that is relatable and no less humorous for girls aged 9 to 12 by author Angie Spady. The first book in a new series titled Desperate Diva Diaries, Catie Conrad: Faith, Friendship, and Fashion Disasters chronicles both the small triumphs and general mishaps of sixth-grade Christian want-to-be diva, Catie Conrad. While her Christian journalist father is often a co-conspirator to making Catie's life interesting with mission trips and church projects, Catie never ceases to realize God's hand in all situations.
About the Author
Angie Spady is an award-winning educator and curriculum author who resides in Eastern Kentucky with her husband Steve and two daughters. She is the author of the popular Channing O'Banning series and notable speaker on the topic of art as a form of self-expression among elementary school children.  Her innovative teaching strategies have been featured on PBS and other local media across the U.S. Her passion is to address the desperate need for good reading materials that both promote self-expression in young children and aims to challenge kids creatively and intellectually.
Channing Everidge is a high school senior, children's book illustrator, and daughter to award-winning author Angie Spady. She currently resides in Kentucky where she is a member of Hindman Student Ministries and where she is president of the Art and Cultural Enrichment Club at her school. A Governor Scholar of Kentucky, Channing excels in academics and has won numerous state awards in the arts and humanities category. Honored to join the B&H Kids family, Desperate Diva Diaries is Channing's first illustrated book series, designed to reach young kids for the glory of Christ.