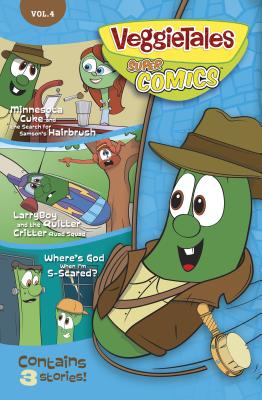 VeggieTales SuperComics (Paperback)
Vol 4 (VeggieTales Super Comics #1)
B&H Kids, 9781433685378, 104pp.
Publication Date: October 1, 2015
* Individual store prices may vary.
Description
VeggieTales® SuperComics offer you all the zaniness and fun you've come to expect from VeggieTales—in a popular new format! Each SuperComic includes three VeggieTales stories with hundreds of full-color illustrations and fun bonus features. Volume 4 includes Where's God When I'm S-Scared?; Minnesota Cuke and the Search for Samson's Hairbrush; and an all new LarryBoy adventure—LarryBoy and the Quitter Critter Quad Squad. Laugh while you learn about handling fear, dealing with bullies, and not giving up with Bob, Larry, and all your VeggieTales friends! 
Don't miss an adventure—be sure to collect each volume in the VeggieTales SuperComics series.
About the Author
Cory Jones is an illustrator and graphic designer based in Nashville TN. His illustration credits include the first three books in the Their Side of the Story series and Seven Steps to Knowing and Doing the Will of God for Teens from Tom, Daniel and Mike Blackaby. Cory lives with his wife Sarah in Spring Hill, TN and is expecting his first son in November of 2013.