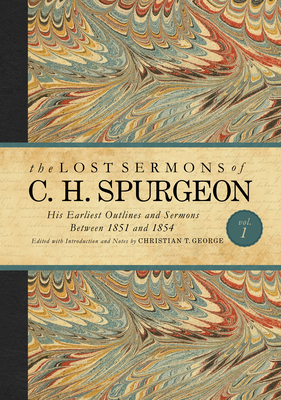 The Lost Sermons of C. H. Spurgeon Volume I
His Earliest Outlines and Sermons Between 1851 and 1854 (The Lost Sermons of C.H. Spurgeon)
Hardcover

* Individual store prices may vary.
Other Editions of This Title:
Hardcover (6/1/2018)
Hardcover (10/1/2017)
Hardcover (6/1/2018)
Hardcover (10/1/2017)
Hardcover (2/20/2017)
Description
In 1857, Charles Spurgeon—the most popular preacher in the Victorian world—promised his readers that he would publish his earliest sermons. For almost 160 years, these sermons were lost to history. Beginning with this inaugural volume, these rediscovered sermons can finally be read, studied, and enjoyed by the millions around the world who admire Spurgeon's spiritual insights and literary grace. 
 
This multi-volume set includes full-color facsimiles of Spurgeon's original handwriting, transcriptions of his outlines and sermons, biographical introductions, and editorial commentary that further illuminate Spurgeon's work. Taken together, The Lost Sermons of C. H. Spurgeon will add approximately 10 percent more material to Spurgeon's total body of literature, making it a must-have for pastors and scholars as well as the multitude of Spurgeon enthusiasts around the world.
 
Volume 1 contains an introduction to the series, an overview of Spurgeon's life and times, seventy-eight sermons he preached itinerantly and as pastor of Waterbeach Chapel, and an analysis of these sermons by editor and Spurgeon scholar Christian T. George. 
Praise For The Lost Sermons of C. H. Spurgeon Volume I: His Earliest Outlines and Sermons Between 1851 and 1854 (The Lost Sermons of C.H. Spurgeon)…
"Charles Spurgeon is one of God's greatest gifts to the church. This collection of Spurgeon's previously unpublished sermons—and Dr. Christian George's annotations— is a profound extension of that gift. I cannot commend this volume—or the forthcoming ones—high enough. Every gospel minister should plan to buy this book and the entire series. I'm grateful to God for both Charles Spurgeon and Christian George. After reading this volume, you will be too."
—Jason K. Allen, president, Midwestern Baptist Theological Seminary
"The publication of this critical edition of the 'lost' sermons of C. H. Spurgeon—sermons preached between 1851 and 1854, and never before published—is a major triumph. This first of a projected twelve volumes includes excellent introductory essays, enough critical notes to satisfy the rigorous scholar, full-color facsimiles, and careful transcriptions that make the work accessible to the ordinary reader."
 — 
D. A. Carson
, research professor of New Testament, Trinity Evangelical Divinity School
"Historians have long lauded the nineteenth century as the century of English greatness both in terms of worldwide dominion and also personalities. While the sun has set on much of Britannia now two centuries removed, it still is shedding new light on at least one English luminary. Christian George has gifted us with a rare opportunity to learn more about the Prince of Preachers while at the same time presenting us with an impressive work of true scholarship. In short, Spurgeon's lost sermons were not lost, but kindly preserved and held until the right hands could assess them and care for them. 
The Lost Sermons
, 
Vol. 1
 is a testament to nineteenth century English greatness and is delight to hold, read, and treasure and represents both a historic discovery and a monumental contribution to British historical studies." —
Jason G. Duesing
, provost and associate professor of historical theology, Midwestern Baptist Theological Seminary & College 
"Christian George's edition of 
The Lost Sermons of C. H. Spurgeon 
is not only a remarkable gift to admirers of Spurgeon, but it also provides an illuminating view into nineteenth-century evangelical thought. I recommend it highly."
 — 
Thomas S. Kidd
, distinguished professor of history, Baylor University
"This series represents a coming together of the perennial pastoral interest in Spurgeon with the renewed scholarly attention to the Prince of Preachers—and I trust Spurgeon would have it no other way. I pray these volumes will be a boon to historians and a blessing to the church for generations to come."
— 
Nathan A. Finn
, dean of the School of Theology and Missions, Union University
"There is gold here, and I'm grateful for Christian's work in digging it up and exposing it to view. Reflect upon the young Spurgeon's sermons because they powerfully and beautifully show us the person and work of Jesus Christ."
 — 
Tony Merida
, pastor for preaching and vision, Imago Dei Church and associate professor of preaching, Southeastern Baptist Theological Seminary  
"I'm so grateful to Christian George for sharing this treasure with the world. His exhaustive research and care has given us new insight into Spurgeon's early years of ministry. I believe you'll be encouraged and edified as you read George's commentary on these early sermons of the man who would become known as the Prince of Preachers."
 — 
Stephen McCaskell
, director of 
Through the Eyes of Spurgeon
B&H Academic, 9781433686818, 560pp.
Publication Date: February 20, 2017
About the Author
Christian T. George (Ph.D., University of St. Andrews, Scotland) serves as curator of The Spurgeon Library and associate professor of historical theology at Midwestern Baptist Theological Seminary in Kansas City, Missouri. 
or
Not Currently Available for Direct Purchase