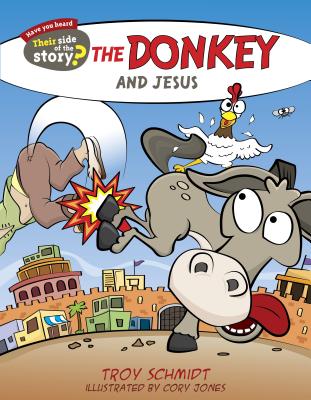 The Donkey and Jesus (Their Side of the Story) (Paperback)
B&H Kids, 9781433687198, 32pp.
Publication Date: June 1, 2015
* Individual store prices may vary.
Description
Oh sure, we've all heard the story about Jesus entering Jerusalem riding on a donkey. But have we heard it from the perspective of the donkey who experienced this history-making event firsthand? He might be just a pack animal, but he has a big lesson to learn.
 
Part of the Their Side of the Story series, The Donkey and Jesus offers an important lesson about service, and the Parent Connection feature helps parents and kids further discuss the message behind the original Bible story.
 
Kids ages 4 to 8 will love this interesting way to learn about Jesus' ride into Jerusalem. And don't miss the other rollicking Bible stories in this series: The Raven and Noah's Ark, The Frog and the Plagues, The Lion and Daniel, and The Whale and Jonah.

About the Author
Troy Schmidt has writing and video production credits ranging from assignments with Disney (The Mickey Mouse Club) and Nickelodeon to Max Lucado's Hermie franchise. He is currently the lead writer for The American Bible Challenge hosted by Jeff Foxworthy on the Game Show Network. Troy and his wife have three sons.
Cory Jones is an illustrator and graphic designer based in Nashville TN. His illustration credits include the first three books in the Their Side of the Story series and Seven Steps to Knowing and Doing the Will of God for Teens from Tom, Daniel and Mike Blackaby. Cory lives with his wife Sarah in Spring Hill, TN and is expecting his first son in November of 2013.