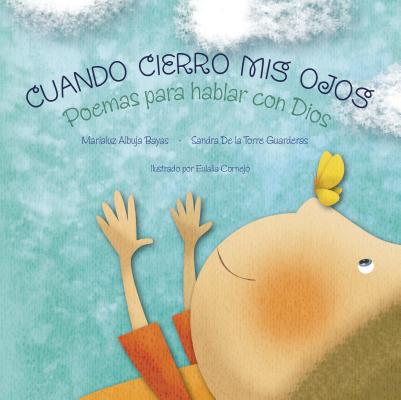 Cuando cierro mis ojos (Paperback)
Poemas para hablar con Dios
B&H Español, 9781433687273, 48pp.
Publication Date: October 1, 2015
* Individual store prices may vary.
Description
Cuando cierro mis ojos es un libro de oración, especialmente pensado para niños y niñas de todas las edades. Son poemas cortos, que invitan a ser leídos en voz alta por su rica sonoridad y creativo juego de palabras. El propósito fundamental del libro es despertar en el público infantil el sentimiento de emoción ante el milagro de la vida. Saber dar las gracias, conjurar el miedo y la tristeza, aprender a soñar, comprender las pérdidas y celebrar lo que tenemos, son experiencias que las autoras comunican a través de la poesía y la sensibilidad mística.

Is a prayer book for kids of all ages. It consists of short poems that lend themselves to be read out loud in light of the richness of their cadence and creative wordplays. The main purpose is to instill in kids emotions for the miracle of life. Giving thanks, conquering fear and sadness, learning to dream, understanding losses, and celebrating blessings are experiences the authors communicate through poetry and a contemplative spirit.
About the Author
Marialuz Albuja Bayas
Ha publicado varios poemarios. Su libro Lapendiente imposible fue premiada y publicada por el Ministerio de Cultura del Ecuador. Ha recibido varios premios nacionales durante su trayectoria literaria. Su obra ha sido parcialmente traducida al inglés, portugués, francés y euskera. Forma parte de antologías y publicaciones en América Latina y Europa. Actualmente vive en Quito.
 
 
Marialuz Albuja Bayas
She has published several books of poetry. Her book La Pendiente Imposible received numerous awards and was published by the Ministry of Culture of Ecuador. Marialuz has also received several national awards for her literary career. Her work has been translated into English, Portuguese, French and Basque, and is included in several anthologies and publications in Latin America and Europe. She currently lives in Quito.
 
 
Sandra De la Torre Guarderas
Es guionista, realizadora audiovisual y directora de doblaje. Ha escrito y dirigido piezas de teatro. Enseña las asignaturas de Guión de ficción y Producción dramática, a nivel superior. Es guionista de la serie de video infantil "Deditos", producida en Viña Studios, Guatemala, y doblada a lenguas indígenas minoritarias de todo el mundo. Su ópera  prima  en el género lírico, El hueco en el zapato, es Premio Paralelo Cera 2012 en Ecuador.
 
Sandra De la Torre Guarderas
She is a screenwriter and has been involved in audiovisual production and dubbing. She has written and directed theater plays. Sandra teaches fiction screenwriting and dramatic production. She is the writer of the children's video series "Fingers" produced in Viña Studios, Guatemala, and translated into indigenous minority languages worldwide. Her debut film in the lyric genre, "El Hueco en el Zapato," was awarded the 2012 Premio Paralelo Cero in Ecuador.
 
Eulalia Cornejo
Obtuvo el Premio de Ilustración Darío Guevara Mayorga (2000, 2001, 2006 y 2007) y el tercer lugar en el Concurso Internacional de Ilustración  Noma­Unesco,  Japón (2003). Ha representado a  Ecuador en la Lista de Honor de IBBY (2006-2007  y 2007- 2008). Entre sus múltiples trabajos ha publicado, en Alfaguara infantil, Porque existes tú,Enriqueta;   y en Editorial Trama, Cuando los gatosverdes cantan.
 
Eulalia Cornejo
She has won the Darío Guevara Mayorga Illustrations Award (2000, 2001, 2006 and 2007) and third place in the Noma-Unesco International Illustration Competition, Japan (2003). She has represented Ecuador at the IBBY Honor List (2006-2007 and 2007-2008). Among her many works for children, she has published Porque Existes Tú,Enriqueta (Editorial Alfaguara Infantil) y Cuando los GatosVerdes Cantan (Editorial Trama).
or
Not Currently Available for Direct Purchase