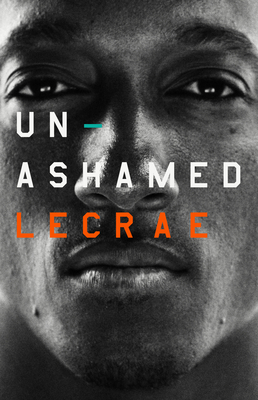 Unashamed
Hardcover

* Individual store prices may vary.
Other Editions of This Title:
Digital Audiobook (5/2/2016)
Compact Disc (5/3/2016)
Description
If you live for people's acceptance, you'll die from their rejection.

Two-time Grammy winning rap artist, Lecrae, learned this lesson through more than his share of adversity—childhood abuse, drugs and alcoholism, a stint in rehab, an abortion, and an unsuccessful suicide attempt.

Along the way, Lecrae attained an unwavering faith in Jesus and began looking to God for affirmation. Now as a chart-topping industry anomaly, he has learned to ignore the haters and make peace with his craft. The rap artist holds nothing back as he divulges the most sensitive details of his life, answers his critics, shares intimate handwritten journal entries, and powerfully models how to be a Christian in a secular age.

This is the story of one man's journey to faith and freedom.

*Cover/Interior design by Alex Medina, photography by Mary Caroline Mann
Praise For Unashamed…
"Lecrae's story is as real as it gets. The rawness, pain, and brutal honesty make it a tremendously gripping read, but the sheer beauty of his journey to redemption makes it something you'll want to share with others, and I certainly hope you will. This book will change lives."
Eric Metaxas, New York Times Bestselling author of Bonhoeffer and Miracles
"Knowing Lecrae's unique story and gifts, this book has been a long time coming and is essential to not only those interested in his music and hip-hop, but also those wanting to better understand the intersection between faith and culture and what it looks like to be in the world but not of it."
Matt Chandler, lead Pastor of The Village Church, President of the Acts 29, author of The Mingling of Souls
"This is an artistic coming-of-age story with all the brokenness and beauty of our American reality and our Christian hope. It's not just the story of how a boy became a man, or how a lost soul found faith, but how an artist found his voice. There's so much here for those who care about the intersection of deep faith with great art. Lecrae is showing the rest of us how it is done."

Andy Crouch, executive editor, Christianity Today, author of Culture Making
 
"If you love beautiful music, powerful stories, or the Lord Jesus Christ, you will not be able to put this book down. Lecrae doesn't hold back in Unashamed; there is no "Christian-ese" or posturing in this memoir. Instead, he takes the reader through his grace-filled journey from abandonment to community, from brokenness to wholeness, from a life lost in the world to one found in the arms of God. This must-read book is for hip-hop heads and believers, artists and seekers, and anyone who wants to know more about one of the most compelling artists of our time. I expect that millions of people will read this book, discover more about Lecrae, and be inspired to walk with Jesus themselves, unashamed."
Joshua DuBois, spiritual advisor to President Obama, author of The President's Devotional, and founder of Values Partnerships
"Historically, hip-hop has been used to express sexuality, frustration, materialism, and even violence. But this is the amazing story of how one brilliant young artist, my friend Lecrae, transformed a powerful music style into a tool for sharing God's love, fulfilling God's purposes, and glorifying God's name. I love and respect Lecrae because of his authenticity and his courage. His raw lyrics are snapshots from his own heart and God has used his honesty to reach audiences who'd never listen to so-called 'church' music. In order to be what God wants him to be, Lecrae has been willing to push limits and break through boundaries. He's a modern-day prophet, purpose-driven rather than popularity-driven, or prosperity-driven. You've heard his music; now you can learn about his life's experiences that made Lecrae the great Christian artist and leader he is today. I promise you, regardless of the kind of music you listen to, you'll love this book." 
Rick Warren, author of The Purpose Driven Life and The Hope You Need
"From extreme humble beginnings to what many would describe as a dream platform, Lecrae puts his journey in perspective. He recognizes all too well the identity crisis and this generation's need to be unashamed of the gospel. I recommend this book for whomever is interested in seeing how God is authoring the journey of a fatherless generation in need of the navigator."
Eric Mason, lead pastor, Epiphany Fellowship, author of Unleashed
"Honest. Rare. Freeing. Lecrae is one of the most talented people I know. His story will leave you inspired and challenged. Unashamed reminds us just how powerful the Gospel is. Jesus turns our scars into our stories. This is a story you will want to read!"

Louie Giglio, Passion City Church / Passion Conferences, author of The Comeback
"Lecrae has never fit in any boxes, and in this book he once again breaks the mold to create an identity all his own—the hip hop artist as worldview thinker. The book starts by relating the emotionally turbulent, completely absorbing story of his life, and ends by presenting his innovative thoughts on a Christian worldview approach to hip hop. Lecrae continues to be a delightfully unpredictable anomaly."
Nancy Pearcey, author, Total Truth and Finding Truth
"It's a rare privilege to see a prophetic story unfold before your very eyes. When it does, you pay attention. Lecrae's Unashamed gives us the raw account of a rare leader stirred by the heart of God to shape culture by creating it."
Gabe Lyons, Q, author of Good Faith
B&H Books, 9781433689123, 256pp.
Publication Date: May 3, 2016
About the Author
Lecrae is a Grammy award winning hip-hop artist whose 2014 album, Anomaly, debuted at #1 on the Billboard Top 200, Rap, Digital, Christian, Gospel, and Independent charts. His seven studio albums and mixtapes have sold more than 1.5 million copies. Lecrae has been nominated for five Grammy Awards, including a win in 2013 for Best Gospel Album and Best Contemporary Christian Music Performance/Song in 2015, as well as won seven Dove Awards, secured one Billboard Music Award nomination, won two Soul Train Music Awards and a BET Hip Hop Awards nomination. Lecrae resides in Atlanta, Georgia with his wife and three children.