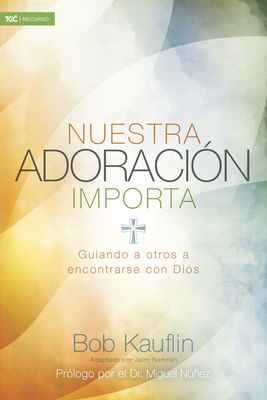 Nuestra adoración importa
Guiando a otros a encontrarse con Dios
Paperback

* Individual store prices may vary.
Other Editions of This Title:
MP3 CD, Spanish (9/25/2018)
Description
Nada es más esencial que saber cómo adorar al Dios que nos creó.

Este libro concentra al lector en los aspectos esenciales de una adoración que honra a Dios, combinando fundamentos bíblicos con la aplicación práctica de una manera que brinda resultados en la realidad diaria.

El autor, que es pastor y un reconocido compositor de canciones, instruye hábilmente a pastores, músicos y líderes de la iglesia para que arraiguen su adoración congregacional en principios bíblicos inmutables, en lugar de tendencias culturales que causan divisiones.
Bob Kauflin cubre diversos temas, tales como los efectos catastróficos de adorar lo que no corresponde, cómo basar nuestra adoración en la manera en que Dios se revela a sí mismo y no en nuestras suposiciones, el combustible de la adoración, la comunidad de los adoradores y las formas en que la adoración en la eternidad debe influir en nuestra adoración terrenal.

Este libro, adecuado para cristianos de diversos orígenes y denominaciones, traerá una perspectiva vital a lo que los lectores consideran que comprenden sobre la adoración a Dios.

Worship Matters

Nothing is more essential than knowing how to worship the God who created us.

This book focuses readers on the essentials of God-honoring worship, combining biblical foundations with practical application in a way that works in the real world. The author, a pastor and noted songwriter, skillfully instructs pastors, musicians, and church leaders so that they can root their congregational worship in unchanging scriptural principles, not divisive cultural trends.

Bob Kauflin covers a variety of topics such as the devastating effects of worshiping the wrong things, how to base our worship on God's self-revelation rather than our assumptions, the fuel of worship, the community of worship, and the ways that eternity's worship should affect our earthly worship.

Appropriate for Christians from varied backgrounds and for various denominations, this book will bring a vital perspective to what readers think they understand about praising God.
B&H Español, 9781433689697, 256pp.
Publication Date: July 1, 2016
About the Author
Bob Kauflin es pastor, compositor de canciones, líder de adoración y escritor con más de 35 años de experiencia. Tras ejercer el pastorado por 12 años, en 1997 se incorporó como director al ministerio musical Sovereign Grace Music. Allí supervisa la producción de sus álbumes musicales e imparte enseñanza sobre la adoración congregacional mediante las conferencias WorshipGod [Adora a Dios], seminarios y su blog, worshipmatters.com. Actualmente se desempeña como uno de los pastores de la Iglesia Sovereign Grace en Louisville, Kentucky (EE.UU.). Él y su esposa Julie tienen seis hijos y una siempre creciente cantidad de nietos.

Bob Kauflin is a pastor, songwriter, worship leader, and author with over thirty-five years experience. After pastoring for 12 years, he became director of Sovereign Grace Music in 1997. He oversees the production of their albums and teaches on congregational worship through WorshipGod conferences, seminars, and his blog, worshipmatters.com. He is currently a pastor at Sovereign Grace Church in Louisville, Kentucky. He and his wife, Julie, have six children and an ever-growing number of grandchildren.